Luminari Award
We are pleased to announce the winners of the 9th annual Luminari Awards – the Luminari Award and the Luminari ESL (English as a Second Language) Award.
Congratulations 2020 Luminari Award Scholars: ANNA OESTREICH and VANYA FULLER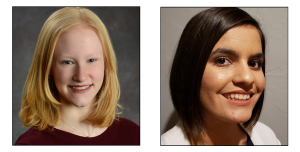 Anna Oestreich, a 9th grade student at Norwin High School in Westmoreland County and Vanya Fuller, an 8th grade ESL student at Independence Middle School in Bethel Park were both selected as the 2020 Luminari Award recipients. Each of these students will receive an all-expense-paid admission to Luminari's I Want to be an Ambassador! camp June 16 – 24, 2020. The scholarship has a value of over $1,200. Both awards are essay-based competitions, focused on students' perspectives of diplomacy. While the Luminari Award application is available directly to students in schools throughout our region, the ESL Award is introduced to students by teachers of the ESL Program through the Allegheny Intermediate Unit.
Ms. Oestreich says her interest in diplomacy stems from a desire to, "promote harmony among humanity." She adds, "attending the Ambassador camp would provide me with a greater perspective on the complexities of global issues and would improve my character through an experience that encourages me to become the best individual I can be."

Ms. Fuller says her interest in diplomacy stems from "learning how to overcome challenges in my life and learning effective ways of getting along with and communicating with other people."

"Both of these outstanding students wrote essays that exemplify the very essence of Luminari's core values which advocate that our actions be guided by compassion and kindness toward each other," says Hilda Pang Fu, Founder and President of Luminari. "We empower teens who attend the I Want to be an Ambassador camp to practice everyday diplomacy to create a more harmonious world."
Since Lumnari's inception in 2009, we have addressed diversity in modern world terms with a focus on "diversity of thought." It is important, perhaps now more than ever, that our young people learn to walk in others' shoes and respect others' points of view. With this camp, we hope to bring positive change through the 'ripple effects' of mutual respect and diplomacy.
Call 412-877-1888 to learn more about our 2020 summer camps or to register. Early-registration discounts are available until May 1, 2020.
---
2020 Luminari Award Merit Scholars
Vanya Fuller (ESL), Bethel Park School District
Anna Oestreich, Norwin School District
2019 Luminari Award Merit Scholars
Hend Hamada (ESL), Fox Chapel Area School District
Cara Leonardi, Moon Area School District
2018 Luminari Award Merit Scholars
Fakhar Almlook Munaf Mohammed (ESL), Carlynton School District
Owen Chaffin, Home School student, Bethel Park School District
2017 Luminari Award Merit Scholars
Jesus Chacin (ESL), Avonworth School District
Kailee Monaghan, Canon-McMillan School District
2016 Luminari Award Merit Scholars
Hao Nguyen (ESL), Sto-Rox School District
Emily Smith, Propel Schools
2015 Luminari Award Merit Scholars
Vladyslav Makarenko (ESL), Mt. Lebanon School District
Rohit Nandakumar, Fox Chapel Area School District
2014 Luminari Award Merit Scholars
Jacob Clark, West Jefferson Hills School District
Zyaire Fisher, Propel Schools
Kaylee Gross, Chartiers Valley School District
David Han, Fox Chapel Area School District
Sydney Reyes, Riverview School District
2013 Luminari Award Merit Scholars
Sophie Belch, Riverview School District
Nathan Bindseil, Central Catholic, Diocese of Pittsburgh
Abigail Eberts, Moon Area School District
Shannon Kim, Fox Chapel Area School District
Troy Miles, Propel Schools
2012 Luminari Award Merit Scholars
Rohan Chalasani, Fox Chapel Area School District
Nicolas May, Chartiers Valley School District
Malaysia Meador, Propel Schools
Brandon Quinn, Central Catholic, Diocese of Pittsburgh