Why Diplomacy Matters By Louis Schwartz
​In the early morning hours of January 13, a text message alert warning of an incoming ballistic missile attack instantly shattered the tranquility of our 50th State. During those unimaginably horrifying 40 minutes of widespread panic, before the erroneous text message was rescinded, terrified Americans and others from around the world most likely concluded that those ballistic missiles were streaking toward Hawaii from the Korean Peninsula. In the aftermath of that petrifying false alarm, as our collective heart rate gradually slowed and the root of our distress became clearer, we understood with uncommon clarity why diplomacy matters.
​After all, for nearly a year, as bellicosities were blithely exchanged between Washington, D.C. and Pyongyang, an unsettling anxiety had permeated the natural serenity that the nearly two million residents of Hawaii and their vacationing guests usually enjoy. Indeed, people from around the world collectively have felt a palpably disconcerting unease this past year as antagonism overwhelmed civility.
​Our unease arose from the blustery rhetoric, which threatened North Korea with "fire and fury as the world has never seen." The apprehension grew deeper as we listened to the offhanded derogatory reference to the President of North Korea as "Little Rocket Man." And our collective disquiet intensified after the antagonistic speech to South Korea's National Assembly last November deriding North Korea's leader as "twisted" and "sinister."
​The menacing, insulting and hostile provocations wore down Hawaiians (and indeed all Americans), who began to see the normally cloudless Oahu sky as ominously overcast, the soothingly warm sand beaches of Waikiki as perilously sizzling and the beautifully tranquil sea surrounding their archipelago as frighteningly ferocious. This denigration of our optimism and sense of security caused us to be uncomfortably vulnerable and particularly susceptible to a false alarm. And while our anxiety has affected us profoundly, it paled by comparison to the anxiousness of our allies in East Asia whose homes might be ground zero.
​The essence of diplomacy is the wisdom, patience and skill to avoid the derogatory, to steer clear of antagonisms, and to eschew threats. Diplomacy favors civil discourse that engages those who are different from us and with whom we may have differences. It allows us to learn how those differences shape our outlook, desires and needs so that collectively we may devise ingenious means through which we bridge the disagreements that arise from our differences.
​Thankfully, the Korean people themselves, despite their estrangement and long-standing differences and in the face of acute political tensions, have demonstrated their facility with diplomacy, by turning away from the poisonous climate created by threats and antagonisms and reaching out to each other in ways that build bridges that perhaps will bring about a brighter future on the Korean peninsula.
​And so the North and South Koreans took matters into their own hands, treating the world to a master class in diplomacy. For the first time since February 2016, the North and South reestablished the hotline connecting the two countries. Barely a week later delegations from the North and the South met at the "Peace House" in the Demilitarized Zone for the first time since December 2015. As they began their historic meetings, the North Korean representative set the tone of their talks by saying the following:
"It wouldn't be an exaggeration to say that the inter Korean relationship is frozen more than the nature's weather," . . ."we officials from both nations should approach these talks with sincerity and diligence, so we can give a valuable result, the first gift of this new year, to the entire Korean people who are watching us with a great anticipation."

At a joint news conference following their negotiations, the parties announced that North Korea would participate in the Winter Olympics for the first time in eight years. They also agreed that their athletes would march together in the opening ceremonies of the Winter Olympics next month under a "unified Korea" flag; that the two sides would field a joint women's hockey team and even that all Koreans would root for athletes from both countries.
​In striking contrast to the alarming rhetoric that has left us worried and uncertain, North and South Korea's adroit display of diplomacy restores hope for a reconciliation of the Korean people and quells the gnawing apprehension, which many months of unnecessary bellicosity aroused. That is why diplomacy matters.
***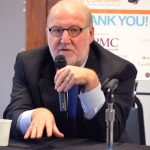 Louis Schwartz is President, China Strategies, LLC (www.chinastrategiesllc.com). Mr. Schwartz is a lawyer and China specialist who focuses his work on the energy and metals sectors in the People's Republic of China. He is Fluent in Chinese, and provides clients with research and analysis, due diligence, merger and acquisition, private equity investment and other support for trade and investment in China's burgeoning energy and metals industries. For more than 10 years, he has taught at the University of Pittsburgh School of Law and its College of Arts and Sciences.