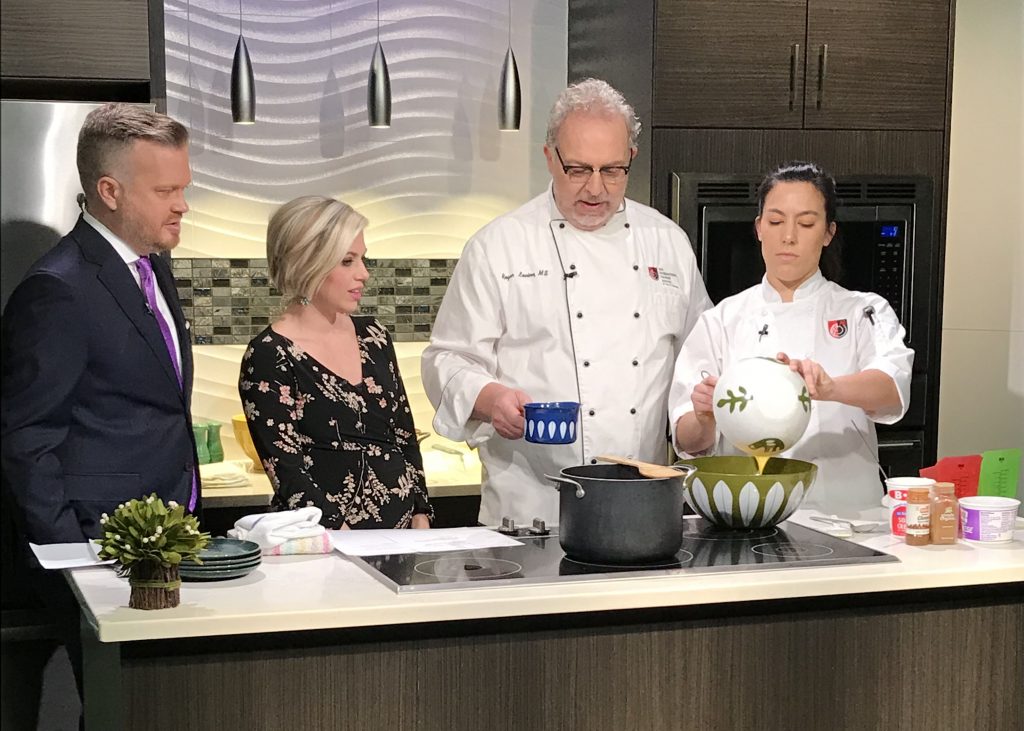 Budding chefs will whip up mouth-watering creations under the guidance of some of Pittsburgh's top-rated chefs at Camp Delicious! Food nutrition and sustainability, and learning how to farm are also part of this year's ambitious curriculum. We sat down with culinary instructor and camp director Roger Levine to get a preview of what's on the menu for this summer's camp.
What most excites you about Camp Delicious! this year?
The kids! I'm excited to fulfill their desire to learn about the culinary world.
Who are the guest chefs joining you this year and what unique talents do they bring to the table?
We are really fortunate this year to have some amazing and talented guest chefs join us at Camp Delicious to share dumplings from around the world.  Jamilka Borges was chosen as Pittsburgh Magazine's 2018 chef of the year. She brings her passion for food and her professionalism, along with sharing her culture with us.  Chris Fenimore, host of 'QED Cooks, and author of several cookbooks, is making his second appearance at Camp Delicious! He's a Pittsburgh icon and is excited to be coming back to share his expertise. We are also thrilled to have one of Michael Chen's team with us from Everyday Noodles to show us how they create food using the freshest of ingredients. Also, WTAE-TV's Michelle Wright will join us to talk about sustainability and honey making.
What kind of foods will you be preparing?
We'll be focusing on foods from around the world including Jewish and Mediterranean cuisine. Our campers will learn how to make fresh pasta and homemade sauce, they'll learn how to fabricate a chicken, along with how to prepare other meats, vegetables and dishes from many cultures.
You have a special trip in store for the campers. Tell us about that.
This is one of the most exciting parts about Camp Delicious this year! Chatham University is working with us on an Eden Hall Farm field trip where the kids will get their hands dirty and their minds stimulated! They'll be digging in the gardens, learning about farming, food waste and sustainability and preparing food from what they've harvested. We also have a zero-waste food challenge in store them.
You stress foods from around the world. Why is this so important at Camp Delicious?
I think it's important to highlight the similarities of foods and cultures rather than the just the differences between them.
What do you want campers to take away form their experience at camp? What skills will they have once they leave?
We want them to have a better understanding of food, food safety, and variety.  We want them to go home and impress the heck out of their families! They'll gain self confidence in the kitchen and will look at food differently after this experience.  I can't wait to meet our campers!
***
Join us for Camp Delicious! this summer! This 5-day summer camp for rising 8th to 12th graders is a great way to celebrate the season while learning to create delicious meals, exploring local gardens and farmers markets, and tasting different flavors and food combinations to broaden their culinary horizons.  Call us for more information 412-877-1888 or sign up today!
If you enjoyed this post, we would be very grateful if you could help share it by emailing it to a friend, or sharing it on Twitter, Facebook or Instagram. Thank you!