By Ilene Hurwitz Schwartz, Principal, HIS Consultants and Luminari Board Member and Alumni Relations Adviser
---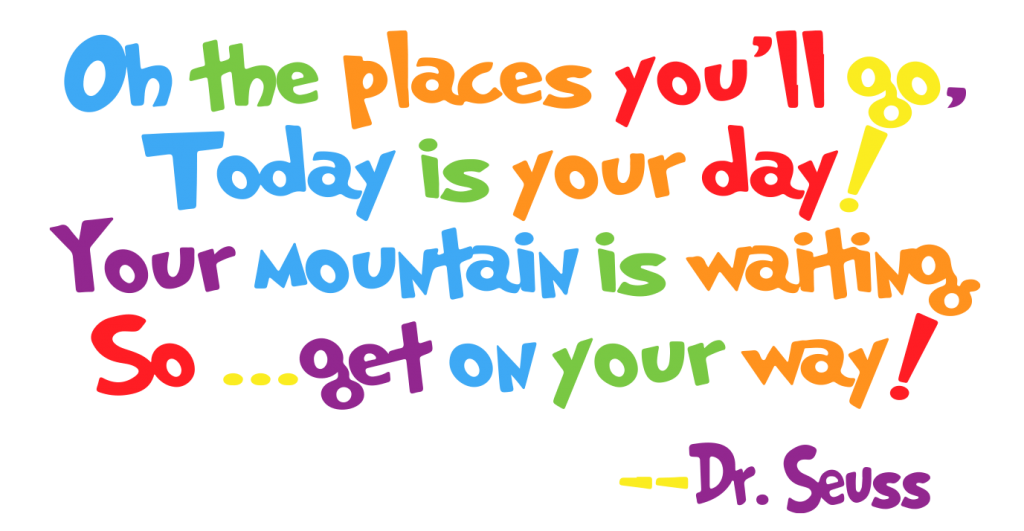 ---
While we weren't looking, Luminari turned ten this year! It goes without saying that Founder Hilda Pang Fu's brainchild lit a spark in 2009 that continues to illuminate the minds of a growing number of young people throughout Western Pennsylvania. So, what better time than now to hear from those who were among our first "Luminaries"?
I contacted several Luminari alumni who participated in our cornerstone summer camp, "I Want to be an Ambassador!" in 2010 and 2011. Nearly a decade later, all are impressive young adults. Dominic Panucci, Branch Director of the Carnegie Boys & Girls Club; Hannibal Hopson, Executive Director of the Diaspora Centre Foundation in Washington, D.C.; and RaNaja Kennedy, Special Population Liaison, The University of Pittsburgh Clinical and Translational Science Institute (CTSI),  were eager to tell me about their journeys since then and how they use the experiences and values learned at "I Want to be an Ambassador!" camp today.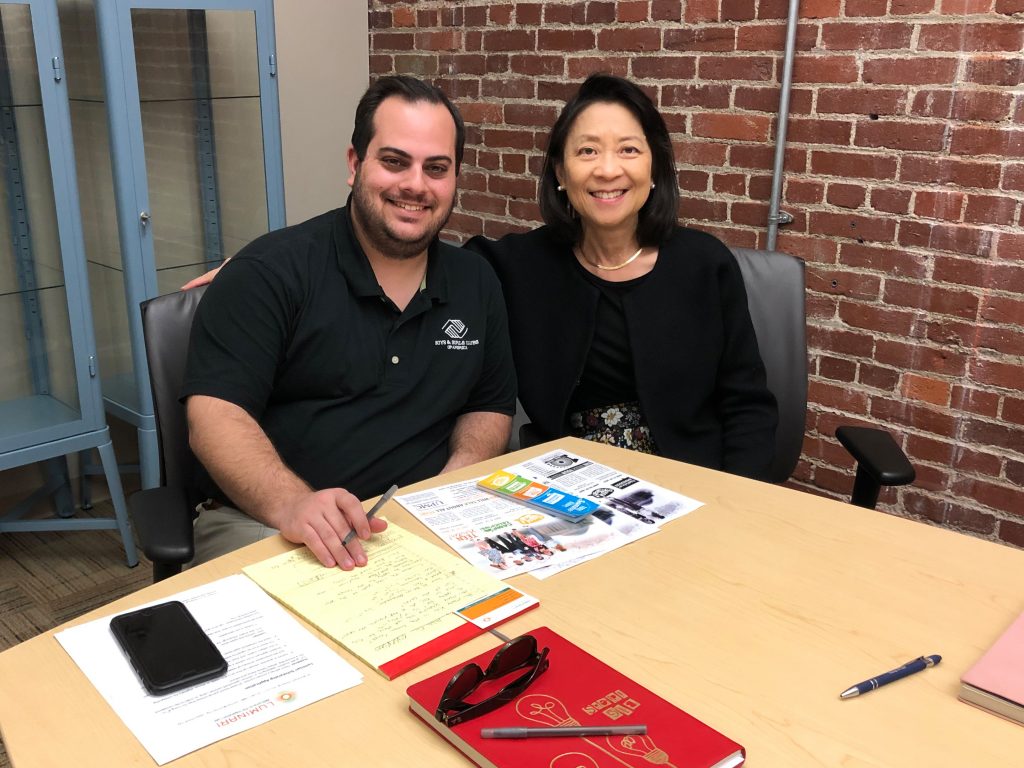 2010 Ambassador Alumni Dominic Panucci chats with Luminari President Hilda Pang Fu.
In the summer of 2010, Dominic Panucci was among the first "I Want to be an Ambassador!" Campers. Today he is the Branch Director of the Carnegie Boys & Girls Club.  Says Dominic, "I like to think that I'm energetic, positive and patient. I also love working with kids.  In my line of work, I am able to see young people grow every day, whether it's with their school work, a sport, or even social interactions.  It's all about making a positive difference in their lives."
Dominic graduated from Robert Morris University, with a B.A. in History. During his last two semesters at Robert Morris he attended classes and worked full-time as the Carnegie Club's Program Manager.  When asked how Luminari's Ambassador camp impacted him, he immediately responded, "The biggest lesson I still apply is to hear all sides of an issue when making a decision.  Almost every day I use diplomacy. Between the kids, parents, and my staff, not a day goes by when I don't use the skills I learned from that experience.  It's all about listening to all sides, gathering as much information as possible, and making the best decision not only for yourself, but for all who are involved with the issue at hand."
Equally significant, through his experience at Luminari's "I Want to be an Ambassador" camp, Dominic said that he discovered the real meaning of respect, "While we may come from different places and/or speak different languages, we should still be considerate of one another.  I find, more often than not, when we embrace our differences and work together to solve problems the solutions evolve more quickly and lead to the best outcomes."  
On a final note, Dominic shared this, "Being able to accomplish tasks that were thought to be otherwise impossible is another important life lesson I gleaned in 2010. When someone tells me, 'It's too hard.'  or 'I can't do that, so why even try?' that's what motivates me. I want to be the person to say, 'Yes, you did the impossible task. Was it hard? Sure!  But the results you get from going through that struggle are worth it in the end.'"
Going forward Dominic hopes to be "able to grow within the Carnegie Boys & Girls Club and have a larger impact on more youth in the Pittsburgh area." 
Hannibal Hopson was a member of the 2011 "I Want to be an Ambassador!" camp and was able to "pass it forward" to another generation of Luminaries. 
Last summer, when the 2018 "I Want to be an Ambassador!" group was in Washington, D.C. having dinner at Estadio, a Spanish tapas restaurant on 14th Street, teen ambassadors were pleasantly surprised by a visit from Hannibal, who now lives and works in Washington.  (For those who know Luminari, all the camp programs try to incorporate opening students' palates to different cuisines from a range of world cultures.)
Coincidentally, earlier that day Hannibal, who at the time was a Gallery Assistant at George Washington University's (GW) Luther Brady Art Gallery, had been in touch with Founder Hilda Fu. Hilda, who sees opportunity where others typically don't, quickly put two and two together and asked Hannibal if he could meet the 2018 students for dinner that evening. Not only did he welcome the invitation, Hannibal graciously agreed to speak to the group, who he discovered included his younger cousin, Kyra Fuller, and another student Max, whom Hannibal knew from coaching basketball!  That he knew some of the "I Want to be an Ambassador!" campers really didn't come as a surprise to Hannibal, who told us that he has recommended Luminari to young scholars in Western Pennsylvania every year since he attended in 2011.
"I was more than happy to speak to the whole group about my work, education and the impact Ambassador had on my life", said Hannibal.
One of the most significant impacts of participating in the camp was Hannibal's decision to pursue higher education in D.C. and study International Development at the Elliott School of International Affairs at George Washington University (GW).
Currently he is the Executive Director of the Diaspora Centre Foundation, which serves as a network of resources that integrates and supports stakeholders, collaborators, and participants to implement exceptional socio-economic projects  that make political, social and economic investments in innovative approaches to development and poverty reduction.
When asked to describe his Ambassador camp experience, Hannibal said, "It was a week for me to connect and communicate life experiences and goals with other 'Luminaries' who shared my affinity for bridging cultural gaps."
 Hannibal continues to stay in touch with fellow 2011 Luminari Ambassadors directly and indirectly via social media. Hannibal was excited to learn of the establishment of the Luminari Alumni Association, saying, "I would like to continue to support the alumni network of Luminaries and am willing to contribute my time and resources to help however necessary."
 RaNaja Kennedy went to "I Want to be an Ambassador!" camp in 2011 when she was 14 and looking forward to starting 9th grade at the Propel Andrew Street High School.  Said RaNaja, "A guidance counselor at my school suggested I apply to the "I Want to be an Ambassador!" camp, and it was one of the best recommendations given to me."  She recalled, "Every day was different. For example, "We were taught some Chinese, even how to write Chinese characters! I also remember learning about debating; how to make an effective argument, how to facilitate a debate, and how to debate in a professional and respectful manner."  Then, of course there was the trip to Washington, D.C., which she described as "very exciting."  Elaborating, "Visiting the U.S. State Department and then the Embassies of Singapore and Brazil was awesome!" 
Because RaNaja came from a school with many different types of people, she naturally contributed to one of Luminari's core goals: celebrating and learning to benefit from great diversity.   
 She expressed, "Luminari had an impact on the kind of educational and professional environment I wanted to be a part of: a diverse setting having different cultures that embrace one other.  Luminari showed me that when people don't understand new things or different people well, they dismiss those things or people and even act rudely because of that lack of understanding. Those experiences, the ones that broadened my horizons and gave me a better understanding of the importance of diversity, are the ones that I have carried into adulthood."
RaNaja went to Harrisburg University of Science and Technology where she earned her B.S in bio-technology.  After graduating, she stayed in Harrisburg and jump started her career at Plexision, a company that develops cellular bio-markers for personalized diagnosis and drug development in solid organ transplantation, and immunological disorders. She noted, "I was a Lab Technician there until just recently. I am currently Special Population Liaison for the University of Pittsburgh' s Critical and Translational Science Institute (CTSI).  My focus is on peoples with disabilities. My work here is a great stepping stone to what I eventually want to do: bio-engineering combined with physical therapy and innovative research of diseases and traumas.  She noted, "It would be great if Luminari had a STEM camp in the future! I would be happy to contribute as long as my schedule allows! 
Luminari is eager to hear from all of our alumni from I want to be an Ambassador!, Camp Delicious!, Speak & Tell, and/or Teen Writer!  Your stories and experiences are of interest of all of us, especially current and future Luminaries!  In the next issue of LUMOS! we plan to speak with our most recent Luminari participants, so if you are among those, contact me at Ilene.schwartz1@gmail.com.