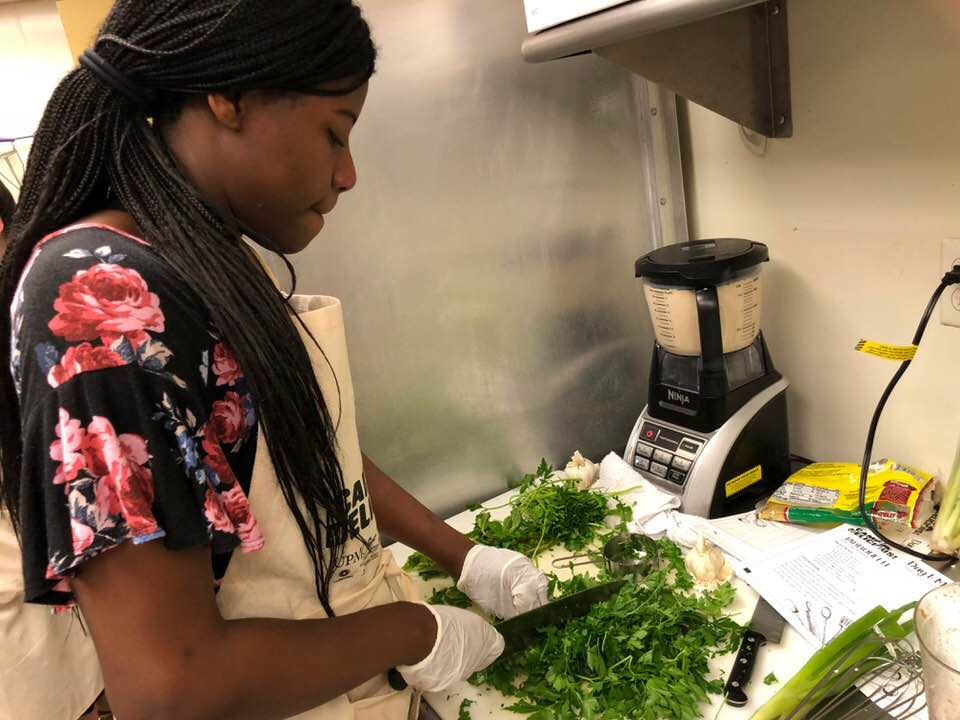 by Ayisat Bisiriyu
Over the past couple of weeks, I have attended all four Luminari summer camps. I was pretty nervous at first because I didn't know what to expect. I knew the basic gist of all 4 camps, but when it came to what material I would actually be learning, I was pretty much in the dark. However, after attending these camps, I am proud to say that I most definitely have learned new things about diplomacy, public speaking, cooking, and writing.
Walking into the front door the first day of the I Want to be an Ambassador! camp, I was a bit shocked. The first activity was something unlike anything I had ever done, but it allowed me to bond with my fellow campmates, and also gave me a nice introduction to the entire flow of this program. Throughout the camp, I was able to learn more about handling important decisions, negotiating, reaching a compromise, and how to solve a conflict. We were also exposed to a wide variety of international foods, and even learned a bit about how food affects culture. Through this camp, I was also able to travel to Washington D.C. This experience was unlike anything I've ever done before and allowed me to meet a Turkish diplomat, the actual ambassador of Ireland, and see some pretty amazing sights! As a writer, going to the Newseum was definitely a highlight for me, and I also loved being able to visit different monuments and discover the city through the different cultural foods. Overall this trip and the entire camp was a very nice experience, and one I'll never forget.
The second camp I attended was Speak & Tell! I was more nervous about this camp than any other. Although public speaking has never been a huge issue for me, I was a bit nervous about who I would be talking in front of. The camp went very smoothly, and I was actually able to learn how to improve my problems with public speaking. I was set on making my speeches more concise and clear, and by the end, I was able to do just that. The director was great at helping everyone overcome personal challenges with public speaking, and during the closing ceremony, we were all able to give confident and compelling speeches.
The third camp I participated in was Camp Delicious! I was particularly excited about this camp given my passion for cooking (see my Speak & Tell speech on "The Joy of Cooking"). I am happy to say that I was not disappointed at all. Through this camp, I was able to learn many new cooking techniques like knife skills, and flavor combinations. On the first day we went to the strip district, and I was able to learn where to get a lot of specialty foods and discover how to use them in my own home. I enjoy being able to create meals for myself so the whole experience is something I will never forget. Additionally, the kind and knowledgeable teachers made the experience even better.
The final camp, and the one that I was most eager for was Teen Writer! As you could probably already tell, I love to write. On the first day, and to be completely honest, I was a bit confused because it was not exactly what I was expecting. Although the method was a bit unusual, I did end up learning a lot about the creative writing process and critical writing. I was surprised to see how much my writing improved after I was finished this program. I was able to learn how to add an insane amount of detail with to my writing without going over the top. We were also challenged to make up the most bizarre, interesting stories from simple things like squawking birds or boats passing by, and it even inspired me to draw more inspiration for stories from ordinary things by just asking the question "What if…"
Overall, my experiences at all 4 Luminari camps, were beneficial to me and allowed me to gain knowledge and memories I'll never forget.
Take a look at the 2018 Camp Delicious! Photo Albums: