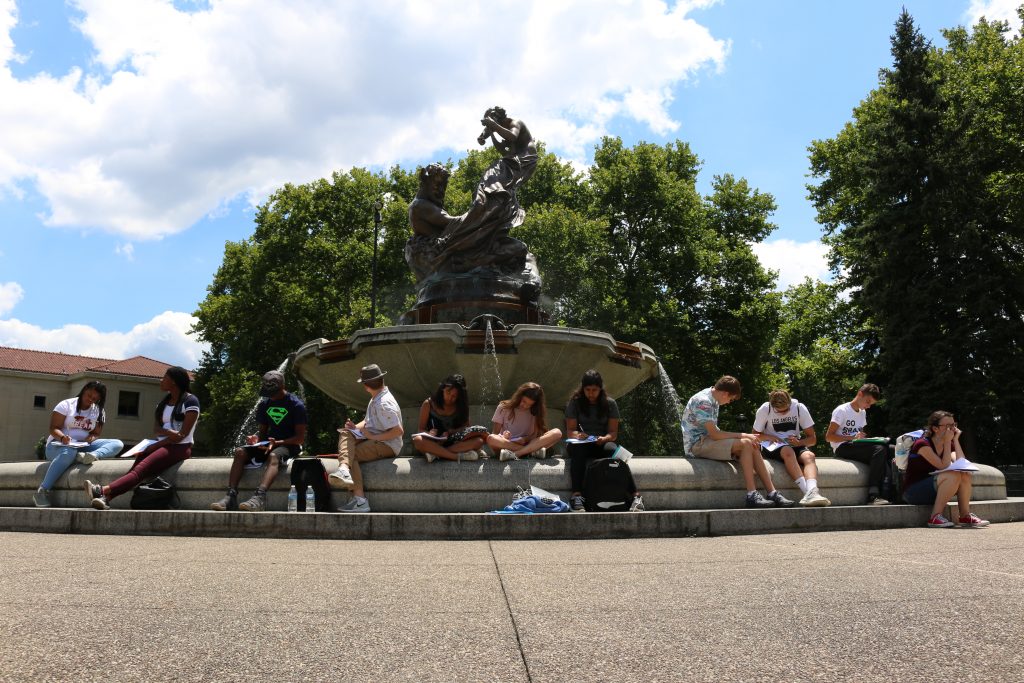 So often, people think of creative writing as a sedentary and solitary pursuit. Not so!
Ben Franklin once said, "Write something worth reading, or do something worth writing about."
I've defined myself as a writer and storyteller for my entire life, from my earliest years when I made up plotlines to be acted out by Barbie dolls and teddy bears to the present day as I actually make my living by writing.
Except. . . what I consider writing is actually a combination of many actions, including daydreaming, observing, eavesdropping, touring, chatting with strangers, wool-gathering, loafing, doodling, and even killing-time-while-I-chauffeur-my-kids-around, among other things.
To infuse creative writing with the kind of realistic details and well-researched facts that make a story compelling, writers must spend a lot of time away from their desks experiencing the real world. Eventually, yes, we do make our way back to the solitude of a writing nook, but we bring with us the impressions and inspirations we gathered while we were out and about. That "squirrel pile" of notes helps us to weave believable tales.
I had the great joy of being joined on one of my recent "writing field trips," as I like to think of them, by 11 young people who participated in this year's Luminari Teen Writer! camp. We started at the top of Mt. Washington to imagine the conversation taking place between George Washington and Seneca leader Guyasuta in the famous Point of View statue poised at the edge of the cliff by the Trimont condos.
We were honored to receive a private tour at the Carnegie Science Center where we touched meteorites and viewed space through a $50,000 telescope.
We ate lunch at PPG Plaza and dared each other to get close to the geysers of water shooting up from the floor of the fountain. We even did a bit of spying on the people populating the plaza on their lunch hour, creating "characters" out of them and guessing at their conversations.
We sneaked in a stop at the old Forbes Field wall in Oakland, talking about that famous walk-off home run by Bill Mazeroski in Game 7 of the 1960's World Series, leading the Pittsburgh Pirates to victory.
We dipped our hands in the water at Pitt's Frick Fine Arts Building, then continued over the Schenley Park Bridge on foot, exploring with wonder the clues to the people and personal stories behind the many locks hooked to the bridge's fence. Paris may have its own "Love Locks" display over the river Seine, but we decided Pittsburgh's version of it was pretty spectacular, too.
We ended the trip with a stop at CMU's Mellon Institute looming over Fifth Avenue in Oakland, where we pondered a fascinating question: Is there something you could do that you know for certain no other human being on earth has ever, or will ever, do? (Shout out to my childhood friend Thomas Baumgartner for providing that prompt!)
We were only out for four hours (yes, it was exhausting!) but it revealed a valuable lesson: Inspiration can come from anywhere.
I hope you'll view the world with fresh eyes and weave a few creative tales of your own. Maybe even share your stories with others!
Remember, inspiration can come from anywhere. You never know when your unique view of the world may serve as a huge inspiration for someone else!
–Gina Catanzarite has served as the Teen Writer! instructor since Luminari was formed in 2009.
Be inspired by these writing prompts created by our very own 2018 Teen Writers!
Emily: Think back to something you passed today that struck you as odd, e.g. unusual landscape. Imagine you are walking past it now and a door opens that leads to another dimension. Write a scene about what happens next. Would you walk through it? Would you be sucked into it? Would something come out? Describe in detail what exists on the other side of that door.
Duncan: You arrive at home and your parents suddenly say, "Season's Greetings! Here's a pet tiger!" How do you react? How will you take care of it?!
Tyler: Imagine you play on a high school lacrosse team. You score six goals before half-time—but then you find out there's a college scout there. Write a scene about how that affects your performance for the rest of the game.
Ayisat: Imagine you are a teenager but when you woke up this morning, you were in the year of 1965. What would you see, where would you live, who do you meet, and how do they dress? Write about what you do that day, and how/if you get back to the year 2018.
Jacob: A boy finds himself abducted by a peaceful alien race that actually pampers him with good technology and cool stuff. Write a scene about that and his difficult decision figuring out if he wants to go back to earth or stay with the aliens.
Thea: Imagine that you had to travel the world with one kind of vehicle. What vehicle would you choose and why?
Tommy: A boy waiting at a bus stop sees a weird animal: Almost human-shaped but it has paws and a tail, and a human face. He tells everyone that he saw a werewolf. Some people say it was a dream; others say he made it up. Write a scene about what happens next.
Ani: As a joke, you summon the Devil as your roommate. He summons demons as servants and complains about his home. Curious, you ask him to take you with him when he goes back to the Underworld. What happens next?
Ila: The next time you are out in public, listen to the conversation of the people around you and write down the most interesting lives you overhear. Then choose your favorites and write a short story starting with that line.
Isabella: Imagine you wake up in the past and you can change anything. What would you change . . . and how would it affect life today?
Cherub: Imagine you are a teen on a visit to a clean and fancy street in California. The teens wonders why her street at home can't look like that. Write a story about that teen's efforts to make her street look like the one she saw in California.
2018 Teen Writer! Camp Photo Albums: