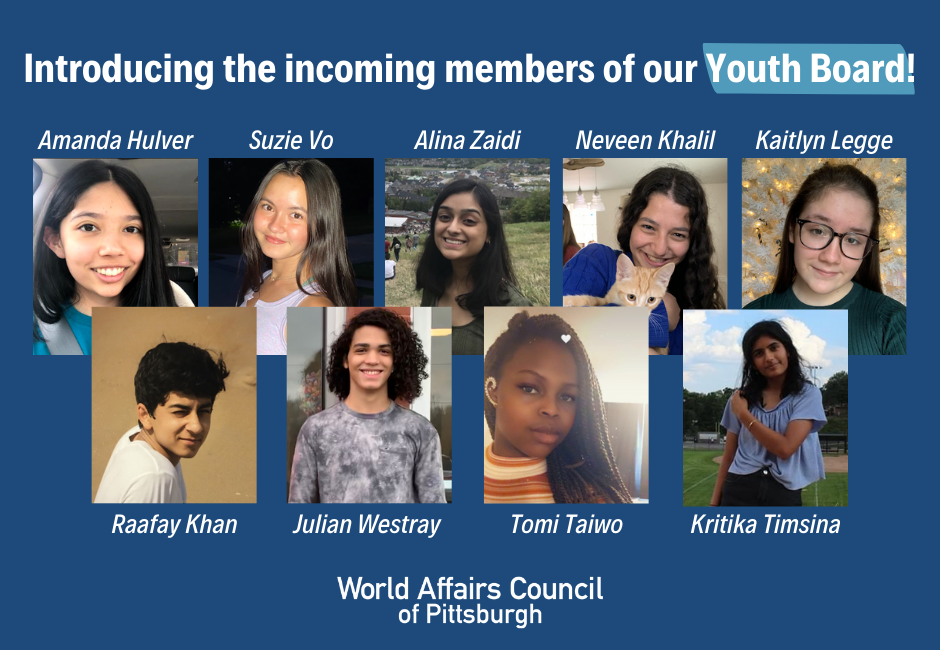 by Alina Zaidi, Ambassador Camp Alumna
My name is Alina Zaidi. I am now a junior at North Allegheny Senior High School. In 9th grade, I became involved with the World Affairs Council of Pittsburgh through the Global Leadership Certificate Program. Even then, I was fairly certain I was going to pursue a STEM career. Both my parents work in STEM, and I was fortunate to grow up in an environment that encouraged learning and curiosity. One of my favorite teachers, Mrs. Steele, told me she thought I should give the program a try.
The program was life changing and it gave me access to many international relations centered events around Pittsburgh. I met so many amazing people and learned about topics I had never even heard about before: US nuclear policy, public health, the refugee crisis, and more. The council awarded me a full scholarship to attend Luminari's I Want To Be An Ambassador! camp, which deepened my passion for global affairs even further.
For the first time, I began picturing myself pursuing a career in international relations, something vastly different from my previous aspiration of pursuing STEM. I discovered just how passionate I was about international affairs, as I found myself looking forward to completing another foreign policy discussion board post and attending another global seminar.
I enjoyed my time in the Global Leadership Certificate program and deeply admired what the World Affairs Council stood for, so I jumped at every opportunity to get involved. When I received an email in August 2020 about the possible creation of an entirely new youth board, I knew it would be an invaluable experience for me to gain leadership experience, learn more about world affairs, and help the council create even more opportunities for others. The youth board's decided purpose was to have young people advise policies and practices to positively impact other youth across Pittsburgh.
A couple months later, I received an email that applications for the youth board were officially out! The written portion of the application was first, containing six open-ended questions about our perspectives on the world. There were questions like "What is global education to you?" The prompts were incredibly thought-provoking and took me a good amount of time to truly answer each to the best of my ability. A couple weeks after submitting the application, the council reached out to the applicants who were chosen to advance to the second and final round of the application process: interviews!
Because of the pandemic, the interviews were conducted online. There were about 6 interviewers there from both the council and Global Minds (the youth-created organization that the Council has recently merged with). Although at first I was intimidated by seeing so many people there, the interviewers did an amazing job of creating a friendly, non-judgmental atmosphere. They asked me a couple of questions about why I was applying. At the end, they opened it up for questions for them, and that was it! The entire interview process was only about 15 minutes long.
I remember the day I found out I was chosen for the youth board was the first big snow day in my area. I was outside in the snow with my younger sister when I received the email on my phone; it was such a happy day!
I have served on the youth board since January, and I am even more glad than before that I decided to apply. There are nine total youth board members, a diverse group of students aged 13-19 from around the Greater Pittsburgh Area. They are all incredible leaders, public speakers, and changemakers. Although we have only met each other online we have created a close bond, united by our passion for global affairs. Each youth board member chooses to serve on one of the council's committees, such as the Finance Committee, Programming Committee, Investment Committee, among others. Two students are chosen by their peers to serve as the co-chairs of the youth board. As one of two chairs, I lead the youth board meetings and I participate in the adult board meetings. It is a rewarding one-of-a-kind experience that we, as teenagers, can't get anywhere else. Here on the youth board, we have the power to improve our community by simply speaking up at the board meetings. Additionally, we have professional development workshops to build skills that will prove useful in every aspect of our lives.
And the best thing is, you don't have to have been involved with the council in the past to apply to be on the youth board; it's open to every teenager in Pittsburgh! Applications for the next youth board cohort are opening soon, and if you are a student reading this, I would highly recommend you apply if you want to make a positive change in your community.
In today's uncertain world, filled with unkindness and division, it is so helpful and important to have organizations like the council that can make a positive difference for local youth. I am so fortunate that I was given this remarkable opportunity, and I will remain forever grateful to the council for helping to shape who I am and what I want to be.
If you would like to learn more about the World Affairs Council and are interested in becoming a member of the Youth Board:
The Youth Board is a body of students appointed by the Council to inform and advise policies and practices that impact youth and to ensure youth voice is incorporated throughout the organization and its programs. Students provide feedback, work on projects to support our mission, and represent the Council. These opportunities help advance youth voice and leadership within the Council and the region.
Participation on the Board also provides opportunities for mentorship, networking, and professional development.
The Youth Board was established in 2021. Applicants must be high school students and must commit to 3-5 hours per month with mandatory participation in quarterly meetings. Youth Board members do NOT have to have previously participated in Council programs to apply—no previous experience is required. Stipends are provided.
***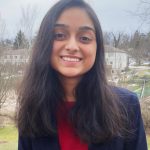 Alina Zaidi is a junior at the North Allegheny School District. She is an alumna of Luminari's 2019 I Want To Be An Ambassador Camp, and is interested in studying foreign policy and government in the future. Alina believes that by working together, we can combat the effects of climate change and build sustainable communities. When she isn't advocating for climate change action, Alina loves eating at Chipotle and going hiking with her family.