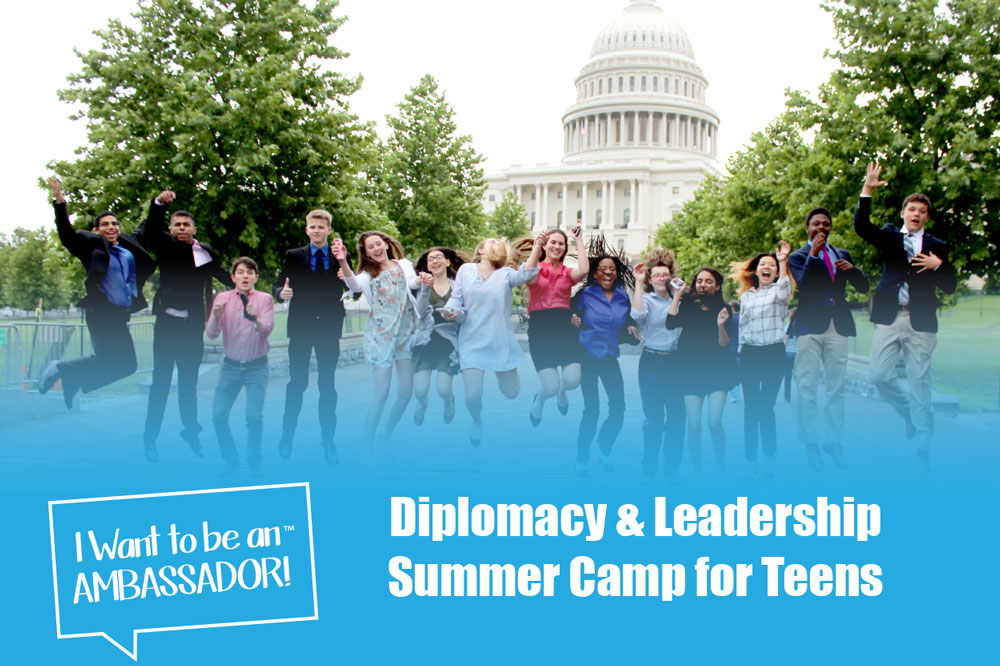 by Debbi Casini Klein, I Want to be an Ambassador! Camp Director
Diplomacy…it means handling problems in a way that makes the situation better, not worse…
The "I Want to be an Ambassador!" camp is all about diplomacy, and so much more….it is negotiating, mediating, motivating, persuading….all these great skills our teens will learn over this exciting week of camp. From interesting speakers, interactive situations, learning about different cultures, to how to handle conflict, negotiating various domestic and international situations in a diplomatic way, it's all part of the excitement of the Ambassador Camp 2021.
Some of our electrifying, hands-on activities include, but are not limited to:
—a 90-minute simulation that involves the students posing as the US or another government in conflict.
—learning how to speak and write in Chinese languages in 90 minutes, which encourages teens to explore other cultures
—a fun, role-playing exercise to learn how to communicate without speaking
—County Executive Rich Fitzgerald will join us for an interesting and exciting question and answer session
—we will learn the art of public speaking with performances from our campers
—a panel discussion from top business leaders from the region, including a multi-Emmy award-winning filmmaker
—another panel of successful young professionals who have made their mark in our area at a very young age will also address the campers and take questions
—we will explore gastro-diplomacy — meaning, how food can be very influential in diplomacy, with samplings of cuisines from other countries.
—we will pay a visit to The Heinz History Center to see their newest exhibit — American Democracy
Our campers will also be spending two days in Washington, D.C. to visit Embassies, meet with diplomats (including a private meeting with the Ambassador of Ireland at his residence and meet with the Ambassador of Luxembourg) and have the opportunity to experience a variety of international cuisines during our stay.
This fully immersive experience can be life-changing for many of our teens; it can be the catalyst that will propel them into a future diplomatic career of foreign service or other noteworthy professions. It is also a great opportunity to meet other teens from various backgrounds, cultures and religions, learn valuable life-skills from our presenters and have fun doing it! As this year's Director of the camp, I am so looking forward to meeting this year's campers!
***
The I Want to be an Ambassador! camp focuses on the art of diplomacy to effectively accomplish goals in daily life. With exercises in Pittsburgh and Washington, DC, teens will visit embassies and talk with business leaders and diplomats to inspire a thirst for global knowledge, hone new skills and impact local communities – one person at a time. Rising 8th to 12th graders wanted June 15 – June 23, 2021, to learn more or sign up or call 412-877-1888.
If you enjoyed this post, we would be very grateful if you could help share it by emailing it to a friend, or posting it on Twitter, Facebook or Instagram. Thank you!