At Luminari, we value knowledge, education and open-mindedness while advocating for compassion and kindness toward others. Our programs and actions are guided by our mission of fostering a more enlightened citizenry through cultural understanding and thoughtful conversation. In that spirit, we present the first "Cultural Conversations" a window to the customs and beliefs of others through first-person story telling. We invite your to keep the conversation going by sharing your stories with the Luminari community.
***
by Dalel Khalil, Writer, Guest Presenter for I Want to be an Ambassador! Camp
One of the most beautiful things about the Syrian culture is that life revolves around food and family. It is at the very heart of our culture. We not only gather for weddings and other major events, but it is also a very strong staple of the social diet to gather with friends and family, and enjoy each other's delicious delicacies, wonderful company and awesome music.
The Arabic culture, and in particular the Syrian culture, is known throughout the world to be the most hospitable. Not only do we gather with each other, but we love to shower guests with our unique hospitality. It is not unusual for a non-Syrian to visit a Syrian person's home and be inundated with food, family, music and culture.
As an author, I give cross-cultural lectures throughout the country, and a few years ago (before the Syrian war) someone who was interested in visiting Syria asked me, "Will I be kidnapped?" because this, unfortunately, was the negative image that many Americans had of Syrians.
I looked her straight in the eye and said, "YES!… You will!… You will be taken hostage into someone's home, fed so much delicious food until you feel you're ready to burst, you will sense it is time to leave, but your host will insist you haven't eaten enough and, without your consent, pile more food on to your plate."
After a few more hours, you will really need to get home, but your host will remind you that the party is just starting, and not let you leave until you've drunk more coffee and eaten more dessert! At some point, you will desperately want to leave again, and your host will tell you that you cannot leave now because their nephew is coming over to play some music and sing a special song for their guests. So in that sense, you will be "kidnapped"… We all had a good laugh, and it changed some perceptions.
Syrian people who come to America and other Western countries, assimilate very well into their new lands and tend to be quite successful in business. They love to share their culture, and always bring that to their new lands with them. I would encourage everyone to try and meet a Syrian person and get to know them and our wonderful culture.
In the heart of Damascus is Straight Street, the prison where St. Paul was carried down in a basket, and where he was converted in St. Annanais' house (all historical accounts in the Bible). The skyline of Damascus at night is a sight to behold. Blue crosses on top of Christian Churches, and green marinates, on top of Mosques light up the night sky and are interspersed throughout the city. And the cool summer night wind of Damascus is more refreshing with every breeze.
In addition to their great hospitality, Syrians offer so much more to the world. Our historical, religious and cultural gifts are unmatched. Syria is rich with amazing history and some of the most sacred ancient sites in the world. Syria proudly houses at least six UNESCO World Heritage sites, including, Palmyra, Aleppo and Bosra.
The first Alphabet was discovered in Ugarit. Damascus is one of the oldest continuously inhabited cities in the world, settled in the second millennium. And it is where the grande Omayyad Mosque is situated, (the capital of the Omayyad Caliphate). And if that wasn't enough, within its walls, contains the Tomb of St. John the Baptist.
There is no better way to immerse yourself in another culture than through its food! Learn to make Traditional Syrian-style Baklava (pronounced Baklawa) that crunchy yet heavenly sweet pastry of buttered flakes and flavored nuts.
Enjoy, Dalel
Do you have story to share? Don't forget to send us your comments or share your story for a chance to be featured in the next Cultural Conversations.
And to learn more about I Want to be an Ambassador! camp or any of our other exciting, fun and unique Summer Camps for Teens, email us at luminari@luminari.org or call us at (412) 877 -1888.
P.S. If you liked this post, you might enjoy our newsletter. Receive each new post delivered right to your inbox, plus some can't-miss news and program updates from Luminari. Sign up here.
***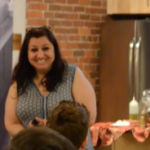 Dalel Khalil is a Syrian-American who is passionate about cross-cultural understanding. She has written an award-winning book about it and currently lectures on the subject. Ms. Khalil, who has traveled internationally, has worked with Iraqi refugees in Syria. She is very involved with the humanitarian crisis and hopes to help Americans better understand the beauty of the Syrian culture.