By Pilar Brown, LUMOS! Editor, and Luminari team member
For many teenagers just entering their freshman year of high school, deciding on a career path may seem like a distant four- to eight years away. Not so for Megan Miele, an enthusiastic 14-year-old, who turned her love of cooking and a summer camp experience into an opportunity to create tasty, organic concoctions as a trainee barista for Zen Juice.
"Camp Delicious really helped build my confidence and inspired my love for making different kinds of foods," Megan said. "After high school, I know I want to go to culinary school."
Megan came to Camp Delicious! last summer expecting to pick up a few new cooking techniques and improve her kitchen skills, but what she gained instead was a greater sense of direction and purpose. After completing the week-long food camp, Megan was eager to learn more so she approached camp directors, Leslie Bonci and Lisa Silberg, about internships for students her age. That opened the door to an apprenticeship at Zen Juice, a new juice bar and vegan restaurant in Aspinwall. Owners Will and Graham Versaw, who presented a session on cold-pressed juices and wheatgrass during the camp, were thrilled to learn a camper was interested in helping out in their kitchen. The Versaw brothers opened Zen Juice in January 2017 to serve a variety of raw cold-pressed juices, vegan shakes and super-food bowls on Commercial Avenue in Aspinwall.
"With the help of Leslie and Lisa, Megan, and her mother Laurie, visited our store to tour our kitchen and before-we-knew-it, her internship was underway," explained Graham. Megan primarily works with Will helping to prep and garnish orders throughout the day. Graham points out that Megan's on-the-job training includes real-world work in the foodservice industry. "We don't sugar coat the experience – the first thing she was taught was how to wash dishes in a three bowl sink."
"Camp Delicious not only provided a chance to learn but also an opportunity to earn an internship and future job opportunities. Camp Delicious is a give to, give back and give on," said Leslie Bonci, MPH,RDN,CSSD, Co-director Camp Delicious.
Megan started her internship in August and said the experience so far has been invaluable in learning both the front and back end of running a small, independent bistro. "I really admire both Will and Graham because they are incredibly hard working and caring. I have learned so much from them, but the best part is that they recognize my desire to grow in this industry. I have been offered a part-time job at Zen Juice once I turn 15 in October," said Megan.
"We can't take credit for Megan's understanding of nutrition or interest in healthy eating," said Graham. "But we are able to give her the opportunity to be creative while developing practical skills in a commercial kitchen space." While most kids her age may just see this as a job, Megan sees it as an inspiration. "Megan has been experimenting with juicing and turmeric at home, recreating our Ginger, Turmeric and Lemon (GTL) shot," explained Graham. "GTL is definitely my favorite juice because it is really good for you and has a nice spicy kick," explained Megan.
This has been a great collaboration between small food businesses and Camp Delicious! "The experience has been much more than just an extra hand in the kitchen for us," said Graham. "Megan makes our afternoons fun, brings new ideas to the table, and is genuinely excited about being here. We are also working with Lisa and Leslie to bring other interested teens from Camp Delicious as interns in the coming months."
***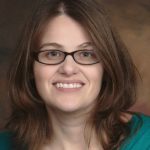 Pilar Brown has worked as a Luminari team member since it's founding in 2009, and she is the editor of it's bi-monthly newsletter LUMOS! Pilar is a visual communicator and creative problem solver who enjoys telling the unique stories of nonprofit organizations and small businesses through design. As a freelance graphic designer, she offers creative solutions through a variety of print and digital services with an emphasis on quality, originality and quick turnaround.