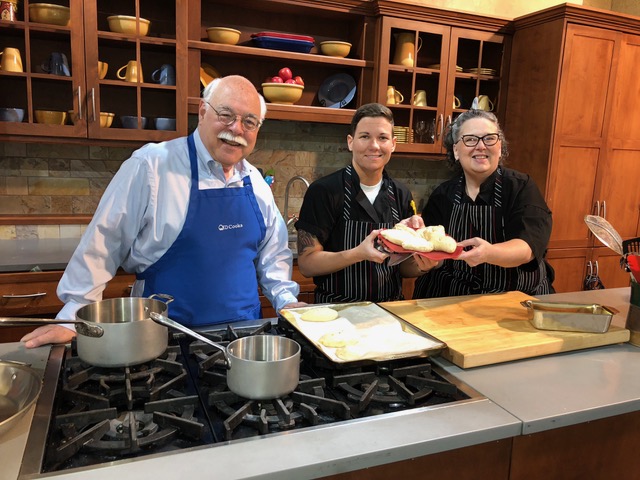 by Ilene Hurwitz Schwartz, Director of Operations
"We have a feeling this is going to be delicious!"
– Ronny Cammareri (Nicholas Cage) in the movie Moonstruck!
As Camp Delicious prepares for its 5th Anniversary Year serving up heaping platefuls of fun and instructive culinary camping, LUMOS! caught up with Camp Delicious' master chefs and this year's special guest to find out what is on the "burner" for summer 2018.
Camp Delicious' Chef de cuisine is Chef Odette who has been a member of the Pittsburgh culinary scene for over forty years and its Sous-chef de cuisine is Cassie Lee who at just 29 years old already has been a professional chef for 10 years. Camp Delicious also is excited that Chris Fennimore, the creator and long-time host of WQED's beloved "QED Cooks", will serve as a guest instructor.
LUMOS!: Please tell us a little about your experiences as professional chefs and educators?
Chef Odette:
I was an Associate Professor at the Art Institute of Pittsburgh Culinary School for many years and have enjoyed seeing the blossoming of Pittsburgh's culinary offerings through the hard work and creativity of many of my former students.
Chef Cassie:
I have a diverse culinary background and a lot of experience working with many different cuisines. Currently I work downtown at the Rivers Club as Sous Chef. I also have a background in catering as well as fine dining. Learning and growing in each job I have taken on has also taught me a lot about different cultures and how and why people eat differently.
Chris Fennimore:
I was born into an Italian-American family in Brooklyn. My grandmother ran the weekly Sunday dinner, which regularly had 30 people eating from a spread of 10 or more dishes. Because there was so much food to prepare, family members got started prepping as soon as you were old enough to pitch in. Later, after I had been working at WQED, I once volunteered to work in a community garden plot. I put in zucchini, peppers and tomatoes — things an Italian would put in a garden. I had such a bumper crop of vegetables that I solicited recipes from WQED viewers. That lead to my first cooking show on QED: "Zucchini Cheesecake and Other Ways to Prepare Summer's Most Abundant Vegetable."
LUMOS!: Why are you excited to join the Camp Delicious Team?
Chef Odette:
As a long-time culinary educator, I am excited to teach a new generation of fledgling chefs!
Chef Cassie:
I am excited to join this team not only because I will have the opportunity to work with Chef Odette and Chris Fennimore, who are such talented Chefs and educators, but also because I will have the opportunity to help develop the skills of Camp Delicious' very passionate and creative "Chefs in the Making." Being able to help teach kids the art that I have grown to love makes me very happy. There is so much to learn about the food that we eat and the places it comes from.
Chris Fennimore:
I was fortunate enough to grow up in a family where I was surrounded by cooking. Any time I have an opportunity to share that love of cooking with young people, I get to re-live those important times in my life. It's not about the food; it's about the sharing! I have always admired Odette's skill, breadth of knowledge and commitment to education. Besides, she has a quick and infectious laugh and there is always delicious food around her.
LUMOS!: What's on the menu for Camp Delicious?
Chef Odette:
This year's Camp Delicious campers will take a culinary trip around the world. Our week begins with a visit to Pittsburgh's celebrated strip district to collect the fresh local ingredients from the food shops of the diverse nationalities that have given us the varied cuisines that we will study and the wonderful dishes we will prepare. Back at Camp Delicious' kitchen, campers first will create foods from the eastern Mediterranean, with culinary visits to Greece, Turkey, and the Levant. Then they will immerse themselves in the cultures of the western Mediterranean, as Chef Cassie and I teach them the sublime cooking techniques of France, Italy and many of the countries of middle and Eastern Europe. Then they will be transported to the countries of South East Asia and experience the flavors and techniques of that amazing culture. One special day will feature our guest instructor, Chris Fennimore.
Chef Cassie:
Over the course of the five days of camp, our students will work in two groups and each group will prepare a menu from each of the regions of the world. Each menu will be a complete meal including appetizers, main courses with side dishes, desserts, and beverages. Each day the students will be able to taste all the foods that have been prepared by both teams, and to take some items home to share with their families. On the final day of camp, our students will be able to invite a family member to Camp Delicious to enjoy a lunch of Central American cuisine that the campers will prepare and serve themselves.
Chef Odette:
Besides cooking techniques, we will introduce students to the concepts of being a locavore (a person whose diet consists only or principally of locally grown or produced food), and how eating international cuisine can benefit them and their community locally. Other topics will include food sustainability, and proper eating habits. Discussions will include local initiatives such as Sustainable Pittsburgh and Eat Well Allegheny.
Chris Fennimore:
I'm looking forward to demonstrating three different cultural approaches to dumplings – Chinese, Italian and Eastern European. Each country has its own version of this versatile food, and I hope that Camp Delicious! campers will enjoy the hands-on experience of making and eating dumplings from around the world. To quote Nicholas Cage's character in Moonstruck, "I have a feeling this is going to be delicious."
***
Summer is just around the corner! Camp Delicious! is a great way for TEENS to take advantage of the season by learning to make delicious meals, exploring local markets, and tasting different flavors and food combinations. To sign up for Camp Delicious! or learn about all of our unique summer camp opportunities for teens, call us at 412-877-1888.