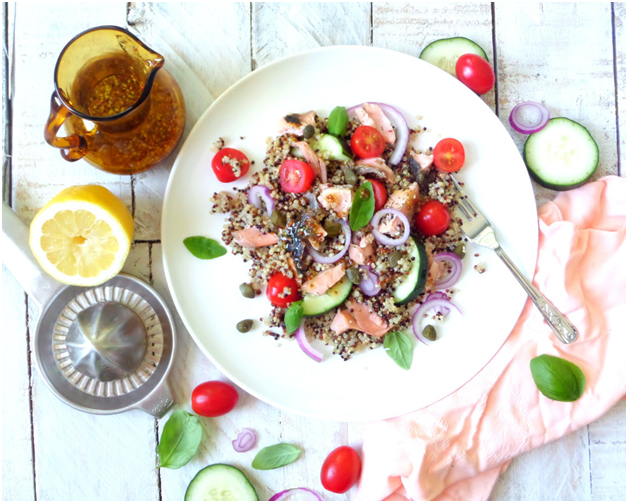 Dressing:
1/4 cup champagne vinegar
2 T fresh squeezed lemon juice
2 cloves garlic minced
2 T sugar
1/4 cup extra virgin olive oil
S&P to taste
In a small bowl, mix together vinegar, sugar, garlic and lemon juice. Slowly whisk in extra virgin olive oil until it is uniform and set.
Salad:
6 cup stale or crusty bread cut into bite size cubes
1 cup cooked quinoa
1/2 small red onion 1/4" diced
2 cup Roma tomato 1/4" diced
1.5 cup cucumbers, seeded 1/4" diced
1 red bell pepper 1/4"diced
1/2 cup fresh basil chiffonade (see chef's notes)
1 cup parsley chopped
S&P to taste
In a large bowl mix all the salad ingredients except the basil and parsley. Pour the dressing over the whole salad and mix until everything is coated. Add the fresh herbs, toss and season to taste.
Can be served right away or chilled in the fridge. Shelf life isn't more than a day or so because the bread will absorb the dressing and turn to mush. Recipe yield is 4-6 people.
Chef's Notes:
If you don't have stale bread, let it sit open on the counter to dry out, or lightly toast it before cutting. The quality and flavor of the bread as well as the ripeness of the vegetable is very important to your end product (DO NOT USE GROCERY STORE BAG BREAD). The classic chiffonade cut may not be familiar to you so here are two great techniques that you can use https://www.youtube.com/watch?v=BhoeBc0JO7Y.
***
To create this "new" trendy salad, Chef Cassie has brought together two ancient foods. Panzanella was first introduced in the 16th century in Tuscany, when it was mentioned in a poem by the Florentine artist, Agnolo Bronzino. Originally the salad was based on soaked bread and onions, it wasn't until the 20th century when tomatoes, cucumbers, and peppers were introduced. It is believed that the name came from the combining of the words "pane" for bread and "zanella" the deep serving bowl in which it is served.
Quinoa has been cultivated in the Lake Titicaca basin of Peru and Bolivia for 3,000 to 4,000 years. The grain has been a very important staple for the people of this area, referred to as chisoyo mama the" mother of all grains". During the Spanish conquest the conquistadors banned the cultivation of quinoa in favor of wheat.
The grain was introduced in the United State in 1983 Where it's popularity has consistently grown, the United Nations General assembly declared 2013 the "International Year of Quinoa". In December of that same year the Orthodox Union began certifying quinoa as being kosher for Passover.
Quinoa is easy to digest and gluten free. Nutritional calculations indicate that a 100 g (3.5 oz) serving of raw quinoa provide 20% of protein, dietary fiber, many of the B Vitamins including Folate, and dietary minerals. NASA is studying it as a crop for long duration human occupied space flights.
So as the saying goes "everything old is new again" Cassie has found a new twist of this tasty, trendy summer salad by combining an ancient grain in an Italian classic.