Few things illuminate the passing of time for me as vividly as looking at photos. Occasionally, an old photo will appear on social media and I'll find myself saying, "Was it that long ago? It feels like yesterday."
This marks ten years since the first Ambassador camp. In 2009, I was inspired by a young friend to design a camp for teens to learn the important and timeless skills of diplomacy. That camp was the seed that grew into Luminari, whose four camps now serve to broaden minds, inspire innovation and promote community engagement. The "I Want to be an Ambassador!" camp stands tall as the flagship of our organization.
Our world has changed so much in these last ten years, and our camps have remained relevant. From campers' feedback, we know about the positive ripple effect set off by our alumni.
I look forward to seeing how this year's campers will carry on the tradition of that ripple effect, making the world a more just and harmonious place. Because of them—and because of those who came before them—I look forward to the next ten years with a sense of joy and optimism. Now, as always, I believe that one person's action can make a difference.
Hilda Pang Fu
Founder and President
Luminari
***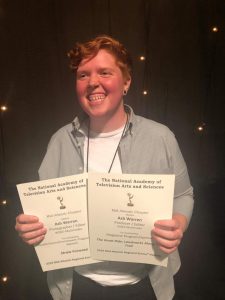 Video by Ash Warren (2019 Luminari Videography and Media Fellow). Ash views much of the world as a story to be told from behind a lens. Luminari's 2019 Videography and Photography Fellow is a cinematographer, director and editor. Ash graduated from The Ohio State University with a degree in Women's, Gender, and Sexuality studies and continued their education with a film technician certificate from the Community College of Allegheny County. Ash is a Next Generation Fellow at WQED-TV who wrote and directed the short film, "A Visible Truth."
CONGRATULATIONS ASH!!! on your 2019 Mid-Atlantic Regional Emmy® Nominations for "Straw Forward" and "The Great Ride."