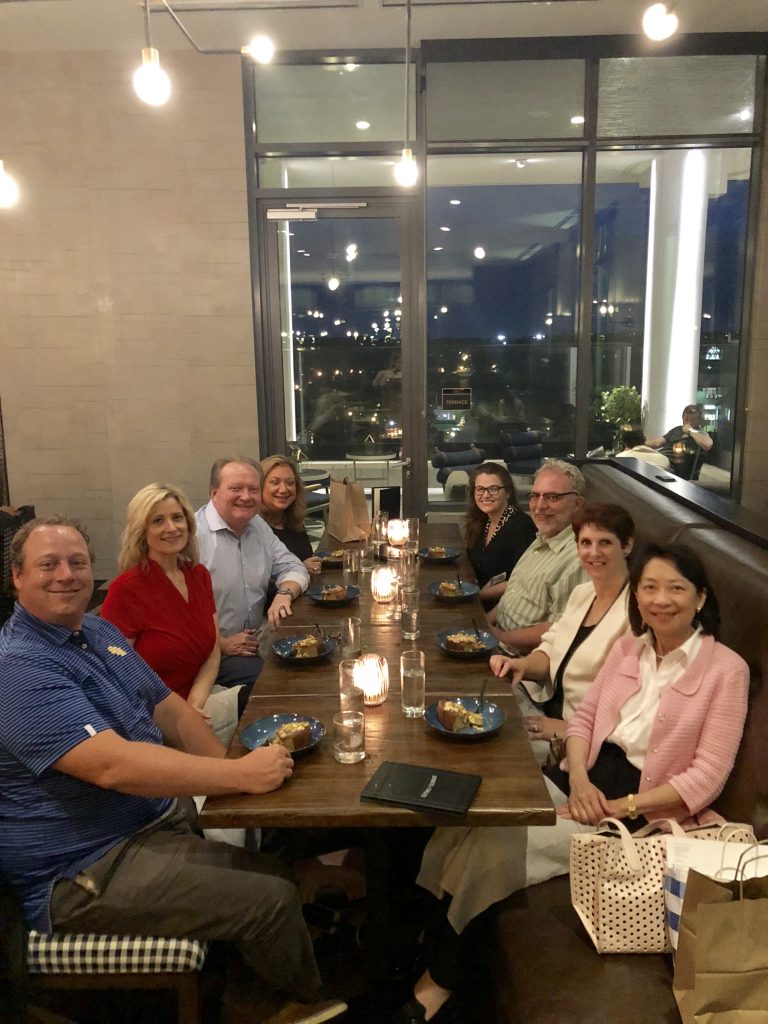 Luminari Camp Directors and Staff" width="400" height="533">
Ten years is a long time. Few things in our lives or in the world last a decade. We are honored and grateful that you've been with us all this time, and we promise that in the years ahead, Luminari will continue to provide interesting and inspiring programs for teens. Our mission is to make programs accessible, educational and, above all, fun. We believe in delivering outstanding programs that everyone can participate in; and continue to trust that this can be done with real generosity of spirit, commitment and action.

To all of our directors, staff, instructors, speakers and interns (past and present) thank you for ten memorable years of friendship, warmth, encouragement and support. We couldn't have done this without you. We hope you'll keep holding us to high standards, and telling us when we've met your expectations or beyond. Here's to the the next decade. May it hold peace, prosperity, and health for all who have journeyed with us thus far and for those who are just joining us on the adventure that is Luminari.
Luminari staff and program directors (photo L-R): Kyle Smith, Sheila Hyland, Michael Bartley, Susan Brozek Scott, Pilar Brown, Roger Levine, Gina Catanzarite and Luminari President and Founder Hilda Pang Fu share a delicious meal at Spirits and Tales on the 10th floor of the Oaklander Hotel in celebration of an outstanding season of summer camps, the joy of working creatively together, friendship, and of course, the 10th anniversary of Luminari.
Our dedicated camp directors, many who have been with us since the beginning and some who have joined our great team this year, share their thoughts and reflections on Luminari and the camps they've fostered and guided over the years.
Susan Brozek Scott (I Want to be an Ambassador! Director, 2016-2019)
One thing that always stays with me, long after Luminari "I Want to be an Ambassador! ™ Camp ends each June, is the fact that there have been these indelible memories created on so many levels, from the youngest camper to the most seasoned, senior staff.
First and foremost, the Teen Ambassadors tell us year after year, in their daily reviews, in their final reviews, in speeches they make, in articles they write and in emails, texts and calls, that the experience they had at camp has had a definite impact on their lives.
They've learned new skills, made new friends, connected with educators, government and business leaders in Pittsburgh and interacted with foreign diplomats on a global level in Washington, D.C.
With Ambassador Camp this year marking it's 10th Anniversary, the ripple effect that Luminari Founder & President Hilda Pang Fu envisioned a decade ago, is extending even farther each year. There have been former Teen Ambassadors who returned in later adult years to help out and lead camps, as well as Teen Ambassadors who tell us they literally changed their course of studies or career goals because of what they learned those 7 days one summer.
I know from personal experience, including my own as a career TV and multimedia journalist, that even our staff members have been able to incorporate what they've seen and learned at camp into a depth of experience and knowledge that continues to reach more people all year long in bridge-building, diplomatic ways. We all learn to listen better, to try even harder to respect differences and build dialogue in a world where those skills and attitudes are needed today more than ever.
I hope that the Teen Ambassadors and their parents will continue to stay in touch, to let the Luminari staff know what they have accomplished in the months and years after camp. We can't wait to see all the wonderful things they will do in the future. And to next year's Teen Ambassadors, we truly can't wait to meet you!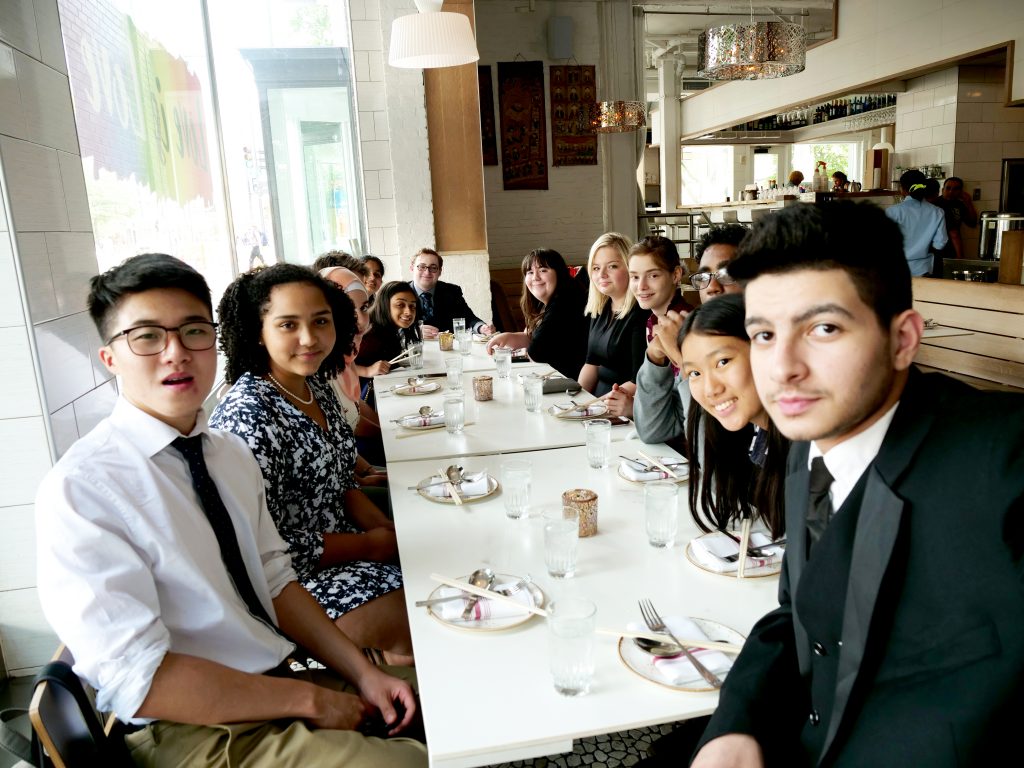 ***
Kyle Smith (I Want to be an Ambassador! Assistant Director 2019; and Ambassador Camp Director 2014)
It was again a pleasure to be involved with the "I Want to be an Ambassador! Program again this past summer. Having previously served as a camp director, assistant camp director, and contributor, it was great being involved with all aspects of the camp again during Luminari's 10th Anniversary. The hallmarks of this great program were again evident this year as the teens learned the art of diplomacy with an eclectic array of programming. From learning to speak eloquently with the Saturday Light Brigade to hearing about current exports and cultural politics at the Vietnamese embassy, the teens expanded their horizons and gained practical skills as global citizens. The program is unique in Pittsburgh (and perhaps the nation) in focusing on the arts of diplomacy at a local, national, and global level. The skills and virtues of communication, empathy, and cultural awareness are vitally needed during a time in our country when it seems harder and harder to cross borders of many kinds.
It was great to be involved with celebrating Luminari's 10th Anniversary this year. I have seen the evolution of this wonderful non-profit over the past decade under the visionary leadership of Hilda Fu. What started as one camp that emphasized the art of diplomacy has grown into four well-established camps that engage over 50 students each summer. I am proud to be a part of this unique and eclectic program that proves that the best work often comes from the ground up. I have personally benefited as a teacher from being involved with Luminari as I interact with creative and inspiring people from many professions that teach me new methods for educating young people.
***
Gina Catanzarite (Teen Writer! Director 2011-2019; and Ambassador Camp Director 2015)
I am just a humble creative writer so I would never attempt to examine the study of energy — a.k.a. thermodynamics — as a scientist would. However, I understand that, according to the First Law of Thermodynamics, energy can be changed from one form to another, but it cannot be created or destroyed.
As the Camp Director of Teen Writer! for the past 9 years, I've seen a lot of energy exchanged, taking new forms, stoking new ideas, fueling young minds, and powering countless new novels, short stories, and flash fiction. I have seen teens who were challenged — sometimes even confounded — by writing prompts that tossed them far outside of their comfort zones, but I never once saw their energy for writing destroyed.
Some people may assume that writing is a fairly passive activity but I disagree. Writing takes energy – physical energy as well as mental energy – and this past summer, our Teen Writer! campers demonstrated again and again that great writing comes from the courage required to be part of a process in which energy changes from one form to another.
No matter how draining you may assume it would be to teach writing skills to 15 or so teenagers for four days in a row in the dead of summer, I always ended each day more energized than when I had started it 8 hours earlier. Perhaps that can be explained in part by the Second Law of Thermodynamics. That's the law that says the flow of energy maintains order and maintains life. And I believe every true writer understands that flow of energy. It is only when we sit in front of a blank computer screen and expend the energy required to start typing that we feel order is restored and we are truly alive.
Thanks for another great camp season – and I'm already looking forward (energetically, of course) to Teen Writer! camp 2020!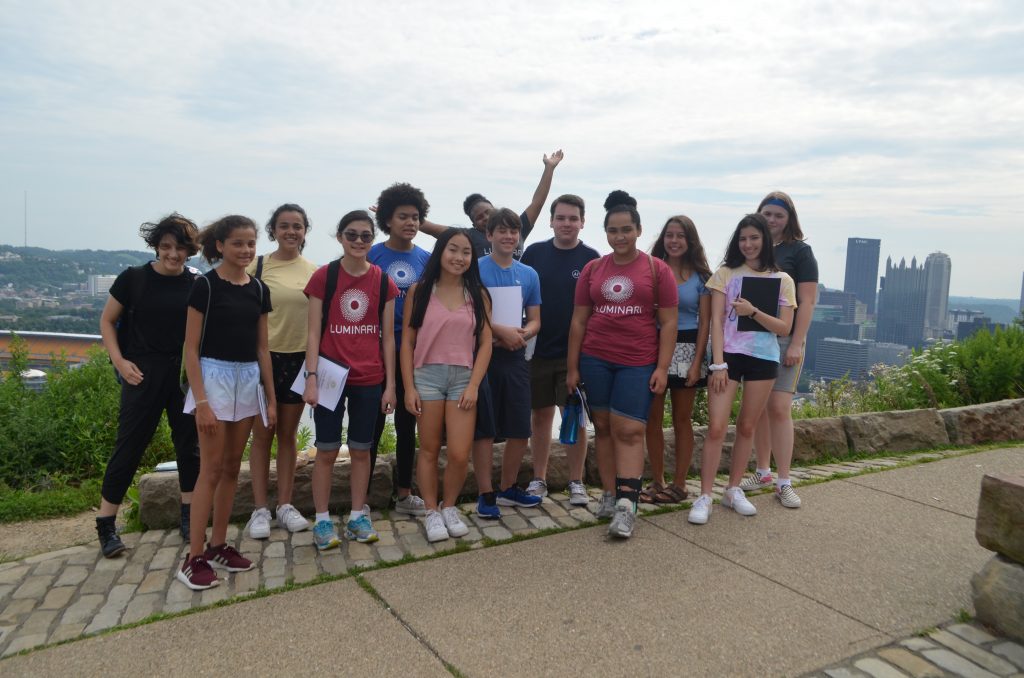 ***
Michael Bartley (Speak & Tell! Co-Director 2019)
There was only one thing about 2019 Speak and Tell Camp that I simply never anticipated. On the last day and after graduation, and while walking to my car at The Ellis School, I felt sad.
For four straight days of exciting engagement in public speaking, I enjoyed myself beyond belief. When it was over, I craved more days of fun and reward watching our campers growth in taking
control of an audience. I just didn't want it to end. Watching our campers enthusiastically and without fear take the podium to deliver speeches close to their hearts was jubilation for the campers, their parents, and of course all of us at Luminari.
And then I realized that July of 2020 will be even more exciting and more rewarding. I can't wait. See you all next year!
***
Michelle Wright (Speak & Tell! Co-Director 2019)
It inspires me when I see the next generation so eager to be their best selves! Our campers this summer put their blood, sweat and tears into improving, not only their speaking skills, but also their life skills. They proved to be critical thinkers, they took on new challenges, and they soared beyond my expectations. I can't wait to continue the journey with our new campers in 2020!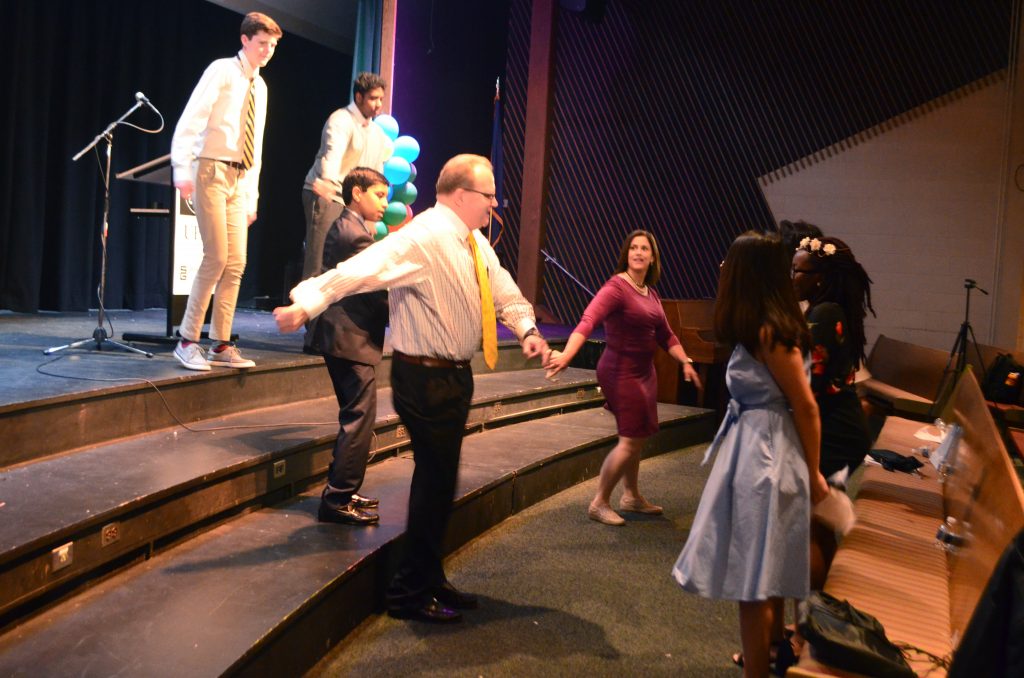 ***
Roger Levine (Camp Delicious! Director 2019)
I thrive on the enthusiasm of the campers experiences and desire to partake in the cooking process. Learning is so important to the success of Camp Delicious and the willingness to step out of one's comfort zone to learn about other cultures and cuisines. Our campers were eager participants who are no doubt cooking up some culinary creations of their own for their families!