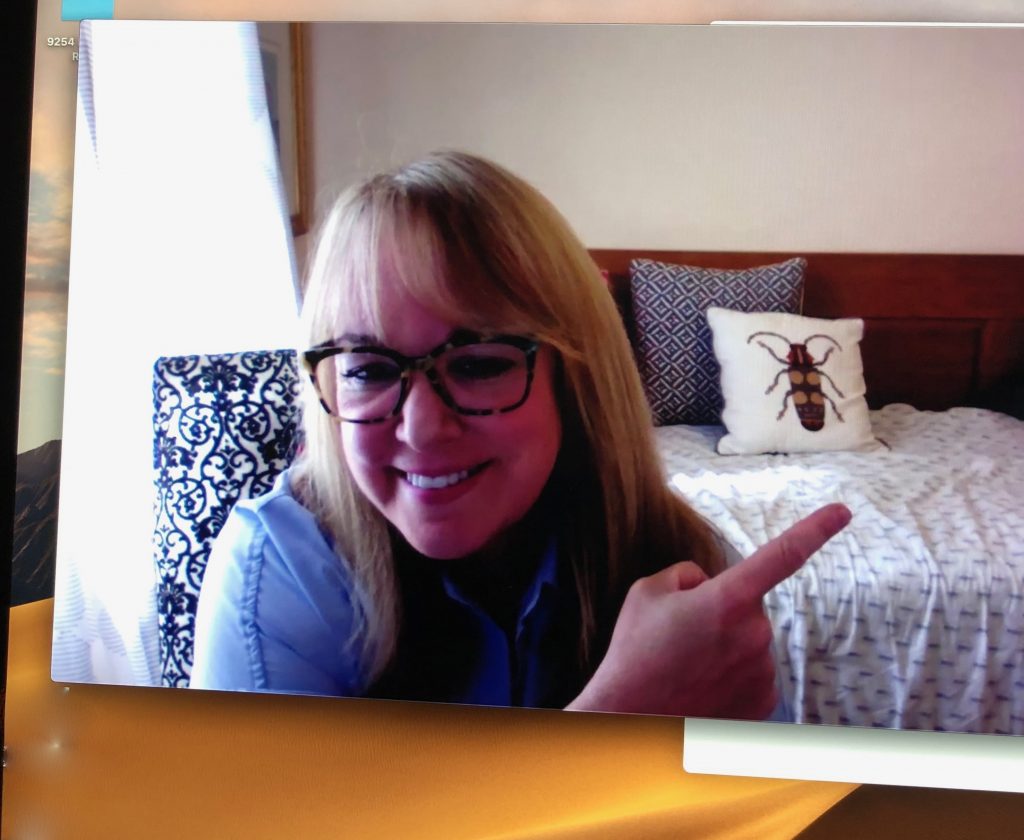 by Beth Dolinar, Luminari Contributor
The image is of a beetle, or maybe an earwig. Most likely it's nothing specific, just an artist's rendering of a generic bug, stitched in colorful thread on the face of a pillow that sits in a row of pillows on the daybed.
That bug has featured prominently in my work life these last six months. When the pandemic squeezed us out of our regular work routines, we crawled into the safety of our homes. Instead of in-person meetings at the office, we entered a new life of virtual meetings. Overnight, I went from being a five-foot-eight-inch tall employee, to a head in a box on a screen.
Zoom, Zoom, Zoom went the workday. Several times a week we'd all gather for a meeting, and I would see my coworkers there in their boxes: the boss in his brightly-lit basement office; the senior producer sitting in front of an interesting sculpture; the videographer outside in her yard.
And I with that throw pillow over my left shoulder, and on the pillow, the bug. When the zoom meetings were new, we all paid special attention to our room backgrounds. Network anchors working from home offices revealed that they put some thought into what books appeared on the shelves behind them. I thought about moving my zoom space to the den, but the bookshelves there are wide and low to the floor. I would have to be lying down with my computer on my lap for them show up on a zoom call.
I do zoom meetings from the desktop computer in our home office; the room that doubles as a guest bedroom, hence the daybed and the bug pillow. The morning of that first zoom meeting, I carefully removed the stack of clean laundry from the bed, smoothed the bedspread and fluffed the trio of throw pillows. When I signed on, I could see myself in that box. The bug provided a focal point, somewhere for my coworkers to look when they got tired of looking at my head. (I, too, am bored with my head.)
We're going on six months of this zoom stuff. As the weeks have passed, I've thought about moving my zoom setting to a different room; maybe the kitchen, with a window to the green outdoors behind me, or maybe the living room, with my son's photo of a tree hanging on the wall over my shoulder.
But so far I haven't moved. Maybe it's because the office is quiet, or because during longer meetings I can look out the window at the deer grazing in the side yard. Or maybe I stay in that room because the lighting is better, and on screen I don't look like the crypt keeper, even though that's my baseline most mornings.
A few weeks ago, I decided to shake things up a bit. Right before the zoom meeting, I switched the order of things, hiding the bug pillow in the middle of the three. I wanted to see if anyone noticed.
Nobody noticed. Nor did anyone notice I was wearing new glasses. Such is life, I guess, when we're all just trying to do our jobs in these new ways.
I hope the pandemic ends soon, for all the important reasons. Too, I want to see my coworkers in person, at meetings where we sit around a big table and laugh together, trade ideas and are energized by being together.
And someday, maybe years from how, I'll be unpacking boxes and I'll find that pillow, and the sight of that bug will pull me back to these trying days. And I'll remember how that bug became a character in the strange on-screen life we all are living now.
***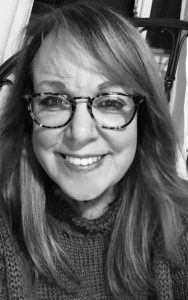 About the author: Beth Dolinar is a writer, Emmy-award winning producer, and public speaker. She writes a popular column for the Washington "Observer-Reporter." She is a contributing producer of documentary length programming for WQED-TV on a wide range of topics. Beth has a son and a daughter. She is an avid yoga devotee, cyclist and reader. Beth says she types like lightning but reads slowly — because she likes a really good sentence.