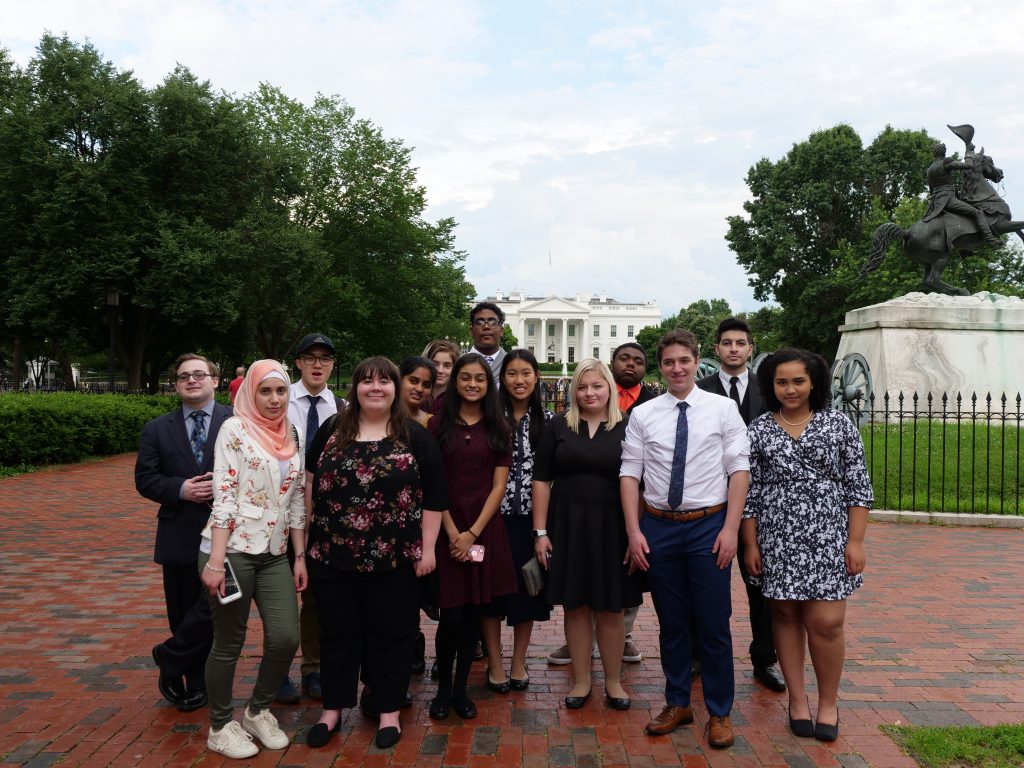 by Sheila Hyland, Operations Manager and Debbi Casini Klein, Ambassador Camp Director
Summer fun and exploration are right around the corner this year for I Want to be an Ambassador! campers. The pandemic proved challenging and also created opportunities in 2020 as we re-focused our programming efforts to an online experience. But we are forging ahead to what we anticipate will be another life-changing in-person camp experience for 2021. We sat down with Luminari's new I Want to be an Ambassador! director, Debbi Casini Klein, to ask what our Ambassador teens can look forward to this summer.
1.What can campers expect at this summer's Ambassador camp?
I Want to be an Ambassador! is a camp for teens like no other in Western PA. This exciting, fast-paced, interactive camp will give our students the opportunity to learn about diplomacy and master the skills of leadership, dealing with conflict resolution, problem solving, public speaking, along with learning skills to negotiate a global crisis, and so much more. We are working on a jam-packed week of fun and engaging hands-on activities and role-playing in which our campers will learn all-important life skills that can be used throughout their lives at home, at school and in pursuit of their dream careers.
Our campers will be immersed in cultural discussions while having a wonderful time making new friends from different backgrounds. They will broaden their minds by exploring various cultures as they learn about diplomacy, inclusion, and sample delicious foods from around the world. Our campers will participate in discussions with a variety of top-notch speakers and influential leaders in our community. The highlight of the Ambassador Camp is a two-day trip to Washington D.C. in which we'll visit foreign embassies, meet with international diplomats, tour a museum, monuments, and dine at unique restaurants near the U.S. Capitol. It will prove to be an exciting, fun and life-changing experience for teens.
What new skills and knowledge will Ambassador campers walk away with?
The campers will learn a variety of invaluable skills that will carry them through life; from solving problems through effective communication and the art of negotiating, to proper etiquette skills in a number of situations. They will also learn how to improve their writing and public speaking skills, and how to deal with a variety of conflicts in a diplomatic way.
Why is diplomacy such an important skill in today's world and in these tumultuous political times? And why is this an important component to the Ambassador camp?
We are living in some of the most tumultuous political times, not only globally but certainly domestically, in which diplomacy plays a critical role. Our campers will understand the importance of diplomacy, which is at the core of our program, and they'll understand the skills necessary to become a successful Ambassador-whether they're representing their schools or handling world affairs. Also, critical dialogue, proper negotiation, and understanding why words matter are all part of diplomatic success.
How might the pandemic affect the in-person camp and the trip to Washington D.C.?
We are cautiously optimistic that by June we will be able to hold our in-person camps just as we have in the past, including our trip to Washington, D.C. However, safety is paramount and we will be following CDC and local and statewide guidelines.
What do you say to students who are thinking about applying for I Want to be an Ambassador! camp?
I cannot stress enough what a terrific camp this is! It's engaging, thought-provoking, extremely interactive and great fun. Many students from our past Ambassador camps have echoed the sentiment that it truly was life-changing for them. No matter what path our campers take in life, this program is a great foundation to set them on their way!