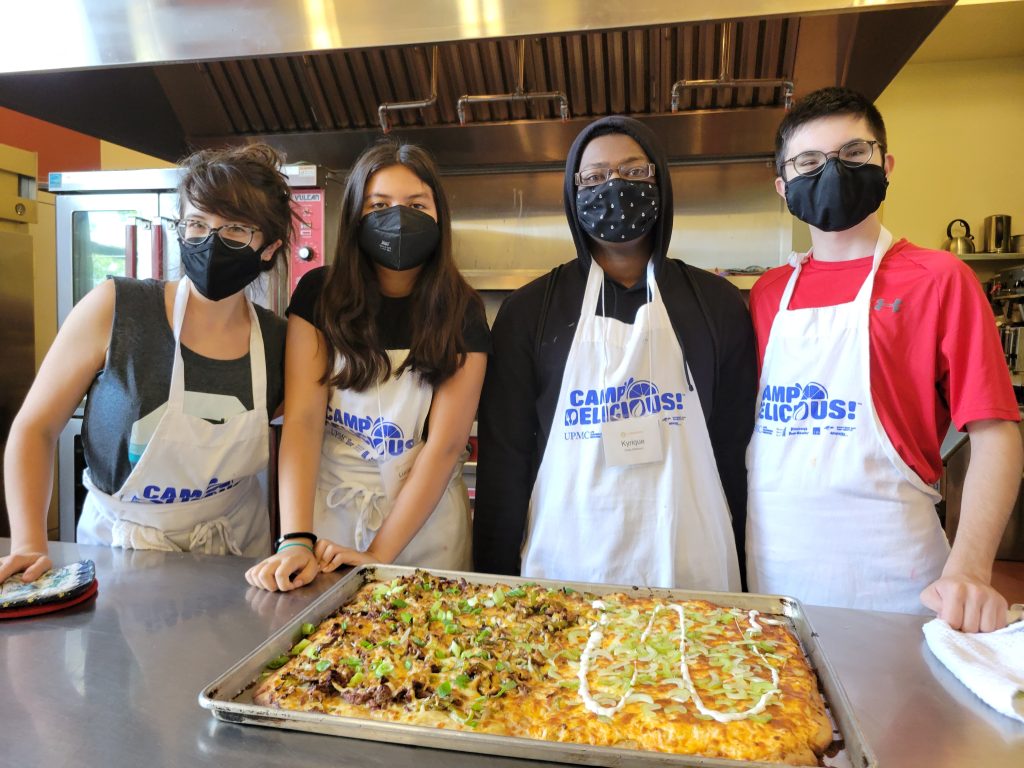 by Hilda Pang Fu, Founder and President, Luminari
At a time when we are all trying to adjust to the new normal after the worst of the pandemic, what better way to nurture ourselves and families than enjoying a good home cooked meal. That's what Camp Delicious! is all about.
Delicious food touches all of our senses. The beauty of a well plated meal. The aromas from the kitchen. The tastes that are both familiar and new. And, most importantly, the experience of a delicious meal that stays with us long after we leave the table.
After touring the world's cuisines in past years, we have returned home. Our 2022 Camp Delicious! focused on regional cuisines throughout the United States. While we recognized some international influence, we appreciated the uniquely American origins of the recipes we made. Many have indigenous roots. The unique bounty of ingredients found only in certain regions has given rise to the diversity of uniquely American cuisine. We discovered that our country is literally a "melting pot" of food from coast to coast.
Over the years our goal has been to introduce delicious food that is also healthy. When every camper takes home the joy of cooking and eating well, we once again are reminded of the mission of Camp Delicious!
Bon Appétit (enjoy this terrific Southern Fired Chicken Pizza Recipe created by one of our teen groups during the 2022 Camp Delicious! program)
---
RECIPE: SOUTHERN COMFORT PIZZA (made with pimento cheese as the base, some dark greens scattered over top, then topped with nuggets of southern fried chicken.) Southern Fried Chicken Pizza Recipe Created by the Camp Delicious Team of Doug Heilman (team leader) with Teen Chefs Alexa, Ava, Cecilia, John, Roman, and Sofia.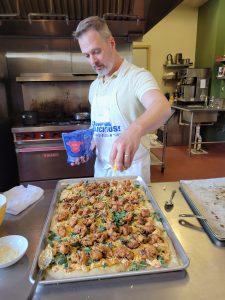 INGREDIENTS (Buttermilk chicken Brine):
– 2 cups buttermilk
– 1 cup pickle brine
– 3 smash garlic cloves
– 1 smashed scallion
– 1 tablespoon salt
– 2 teaspoons pepper
DIRECTIONS: Cut 2 pounds Chicken breasts into 1 inch chunks. Marinate for one hour. After an hour passes, drain the brine into a separate bowl and reserve. Then dredge the chicken pieces into a seasoned flower. Our dredging flour was 3 cups AP flour, with 1 tablespoon salt, 2 teaspoons pepper, 1 teaspoon cayenne, 1 teaspoon paprika, 1/2 teaspoon ground thyme. Do a double dredge, Once in the flat flour, then in the reserve brine then in the flour again. Heat neutral oil to 350°F then shallow fry chicken in batches.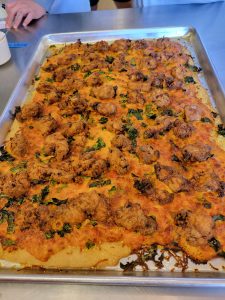 PIMENTO CHEESE RECIPE
INGREDIENTS:
– 2 garlic cloves, grated on a Microplane
– 1 whole roasted red bell pepper, peeled, seeded, and chopped (½ cup)
– 4 ounces cream cheese, softened
– ½ cup mayonnaise
– 1 teaspoon cayenne pepper
– ½ teaspoon kosher salt
– 8 ounces sharp cheddar cheese, grated (2 cups)
– 8 ounces Monterey Jack cheese, grated (2 cups)
DIRECTIONS: Combine the garlic, bell pepper, cream cheese, mayonnaise, cayenne, and salt in the bowl of a stand mixer with the paddle attachment. Beat on medium-low speed until well mixed, scraping the bowl occasionally. Add the cheddar and Monterey Jack cheeses and beat on low speed until the cheese is evenly distributed.
Transfer to a serving bowl, cover with plastic wrap, and refrigerate for at least 1 hour and preferably overnight. The garlic will mellow over time and the flavors will meld.
Make ahead: The cheese can be refrigerated for up to 1 week.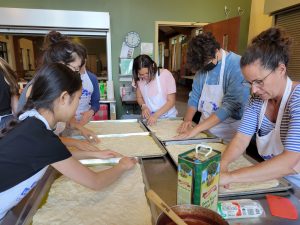 PIZZA DOUGH RECIPE
(Makes one half-sheet pizza; Serves 4 to 6)
INGREDIENTS:
– 400 grams bread flour
– 2 teaspoons sugar
– 1 1/2 tablespoons instant yeast (2 packets)
– 1 tablespoon kosher salt
– 1 1/2 cups lukewarm water
– 3 tablespoons olive oil, divided (+ more to grease hands)
– Cooking spray
DIRECTIONS: In the bowl of a stand mixer, mix together the flour, sugar and yeast. Add the water and using the dough hook on low speed mix the dough for 5 minutes, stopping once or twice to scrape the bottom of the bowl to make sure all the flour is incorporated. Add the kosher salt, and mix with the dough hook on medium speed for another 5 minutes. Coat a large bowl with 1 tablespoon of the olive oil and mist a spatula with cooking spray. Put the dough in the greased bowl and cover with plastic wrap. Allow to rise 4-5 hours on the countertop. The dough will rise, fall, and rise again during this time.
Mist a half sheet pan (13 inch x 18 inch) with cooking spray and then put a tablespoon of olive oil in the center. Gently scrape the dough onto the half sheet pan on top of the olive oil. Allow to rest in the pan for 20 minutes.
While the dough is resting, prepare your toppings (low-moisture toppings work best).
Oil your hands, and gently spread the dough to cover the pan. It is OK if the pan is not completely covered.
Gently spread toppings on the dough and rest for 30 minutes. Preheat the oven (including a baking stone or steel) to 500 degrees.
Add the grated mozzarella and then the dried oregano. Add toppings (see above) and bake for 18-20 minutes, until golden. Remove to a wire rack and allow to cool for a few minutes before cutting and serving. Enjoy!
Download a PDF (4MB) of our Camp Delicious! Teen's Southern Comfort Pizza Recipe