Sheila likes to say she caught the "Luminari bug." Once you catch it, she says you can't let go! Sheila offered her expertise at the Speak & Tell! camp in 2016, then returned as co-director of the camp in 2017. Now she's ready to dive into the role of Operations Manager and brings a wealth of experience as a small business entrepreneur, media trainer, speaker and former Pittsburgh TV news anchor/reporter. We caught up with Sheila to get to know her better and learn about her reasons for joining team Luminari.
What is it about Luminari that captured your attention?
First of all, who doesn't like camp? One of the most inspirational experiences of my life was going to camp. Not just any camp–this was "outdoor school," a mandatory one-week adventure for all students in Multnomah County Oregon, where I grew up. Our classroom unearthed the wonder and beauty of the great outdoors. We learned about wildlife, minerals and about the majestic forest. We got to hike the Oregon mountains, cook some of our own food and sing goofy songs around the campfire. I cherished the bonds I formed with my fellow campers and counselors, so much so that I returned a few years later as an outdoor school counselor myself. Camp Luminari has that same extraordinary ability to educate and excite, to change lives and create lifetime bonds—outside of a typical classroom.
How does your TV/journalism background prepare you for your new role at Luminari?
When you work in television news, you're constantly under a deadline! I learned to get organized, work under pressure and adapt to any situation. Over the years, I interviewed presidents, scientists, teachers, athletes, movie stars and everyday people. It taught me to appreciate the unique qualities of every human being and to value the art of diplomacy. I bring those principles to Luminari, which shares the same core values of knowledge, education, open-mindedness and kindness toward each other.
What are your goals for Luminari?
To share this incredible opportunity with as many students, parents, partners and schools as I can! I'm inspired by the accomplishments of Luminari over the past 10 years and I intend to further our outreach in Western Pennsylvania. We have a solid foundation and we will continue to build on that legacy. I want to encourage and inspire even more students to develop their leadership skills and to support Luminari's mission to broaden minds, inspire innovation and promote community engagement.
What most excites you about joining the Luminari team?
I'm fortunate to come on board as Luminari marks its 10th anniversary. I'm excited about the possibilities ahead—getting to meet and work with an extremely impressive group of students, watching the camps develop and grow, and most importantly, spreading the word about an experience that inspires and impacts kids as much as outdoor school profoundly influenced my life all those years ago…
What were you like in high school?
I was outgoing. And I could be funny (well, at least I thought I was funny!) I was involved in lots of activities including student council, leadership camp, choir and the musicals. My goal at the time was to be on Broadway. I never made it there but my high school experiences helped set me up for an amazing career in broadcast journalism.
What is your personal motto or personal mantra?
Actually, it's a quote that's often attributed to John Lennon: "Life is what happens while you're busy making other plans." I tend to plan, organize and make lists. Of course, things often don't go according to plan, so I try my best to stay calm and figure out a plan of action when life throws me a curve ball. And there have been many curve balls.
What do you like to read?
I've belonged to a book club for the past 10 years, and we read every kind of book imaginable. My favorites, however, are biographies, autobiographies and anything historical. I love reading about real people and their extraordinary lives. Truth often really is stranger than fiction.
What were the characteristics of the best boss you've ever had?
I've worked for some exceptional bosses, but the person who impressed me the most wasn't my boss but my late business partner, Debbie Foster. Debbie and I started a media training and crisis communications business together. She was intelligent, down-to-earth, empathetic, cool under pressure, organized and one of the most generous, capable and kind-hearted people I ever had the pleasure to work with. Still to this day, when faced with a tough decision or situation, I ask myself how Debbie would have handled it. Sadly, Deb passed away in 2013.
***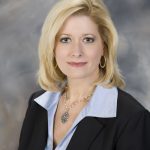 Sheila brings her energy, natural curiosity and communication skills to Luminari which she considers a labor of love. If she looks familiar to you it's because she spent over 20 years on Pittsburgh's airwaves reporting the news. Sheila is excited to share her passion for speaking, storytelling and diplomacy.