by Pilar Brown, LUMOS! Editor and Graphic Designer
Luminari's strength and longevity can be directly attributed to the collection of people, experts in their professions, who have shared their time, creativity and talent to help our organization grow and flourish. Our team members truly embody the Luminari spirit in everything they do and to illustrate this point, Gina Catanzarite, Teen Writer! director, and Beth Dolinar, former administrative coordinator and Speak & Tell! director, were each recognized (individually) for their excellence in television by the 2018 Mid-Atlantic Regional Emmy® Awards during a ceremony that took place on October 13, 2018 in Philadelphia, Pennsylvania. Read more about their journeys and the projects that won them Emmy success: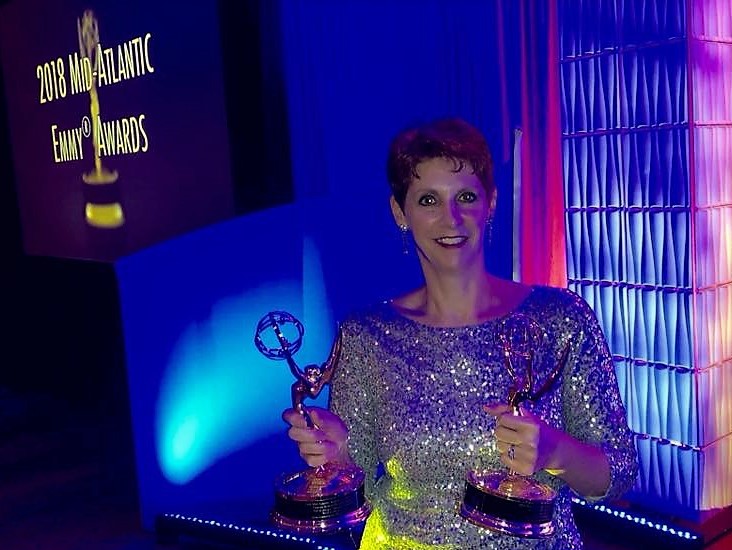 As a longtime Program Director for Luminari, I've always tried to embody the mission of creating a "ripple effect" of positive change as I encourage teen writers to share work that inspires others.
I hope I do that same thing in my "day job" as a television producer, creating documentaries and talk shows that provide reliable information and thought-provoking interviews for the audience. However, the nature of the work makes it difficult to gauge whether I've succeeded in that goal because my programs air on television but I rarely get to hear if or how they impacted individual viewers.
On the weekend of October 13, I was gratified to get a little bit of feedback from my peers when I was the recipient of two Mid-Atlantic Emmy Awards for my work.
One Emmy award was for the talk/interview program iQsmartparent, produced by WQED and distributed nationally by American Public Television to more than 100 public stations. iQsmartparent strives to help parents raise children in the digital age and it discusses ways in which 21st century technology is helping, and in some cases hindering, children in education and in social and emotional development.
The other Emmy was awarded in the Human Interest Program category and it was for a documentary I produced titled Ink & Image: Tattoos that Heal. It's an intensely personal look at people who get tattoos for medical or mental health reasons. One woman got tattoos to make her breasts look more normal after breast cancer reconstruction surgery. Several others talked about the tattoos they chose to get after long battles with mental illness, self-harm behavior, and suicide attempts. A veteran explained how a war wound led to a heroin addiction, and his tattoo is a reminder of where he was, and where he's taking his life now to remain clean and encourage others to do the same.
I hope the programs I produce do inspire a ripple-effect of positive change in people who view them but what has become abundantly clear to me is that I think it's very humbling that I would get awards merely for talking about the brave and inspiring work that other people do.
I'm so grateful for these Emmy awards I've received but I also know that the people who were featured in the programs rarely if ever get awards, or recognition, or even a thank you, for the challenging and inspirational work that they do, or the struggles they've overcome.
For that reason, I am very grateful to now use LUMOS! as an opportunity to thank those people, for the ripple-effects they created that inspired me to feature their stories in my work. I hope we all take the opportunity to approach people waging heroic battles in their lives and recognize them for the work that they do, day in and day out, and offer them our thanks and admiration. Beautiful Emmy statuettes are wonderful, I won't deny that; but kind words and smiles and praise shine even brighter so be sure to heap them on the many deserving people you encounter in your life for inspiring ripple effects of positive change through their actions and courage.
Watch Ink & Image: Tattoos that Heal online and explore resources about mental health and tattooing at https://www.wqed.org/inkandimage
Learn more about iQsmartparent and watch episodes online at https://www.wqed.org/smartparent/
Gina Catanzarite is a television writer/producer who has worked regionally and nationally in her industry since 1987. She is the recipient of 13 Emmy awards and 31 Emmy nominations in the course of her career. She has served as a Program Director at Luminari since it was founded in 2009.
***
It was a night of glamour and golden statuettes as the best of Pittsburgh television gathered in Philadelphia for the Mid-Atlantic Regional Emmy Awards in October.
The ceremony recognized the best in journalism, writing and production in the television markets of Pennsylvania. Among the winners was Luminari writer and former "Speak & Tell!" camp director Beth Dolinar. She took home the Emmy for producing the best Community Affairs programming for "Hitting Home," a year-long series of programs that explored the effect the opioid epidemic is having on women and families.
The center piece of the winning programming was Beth's documentary "Broken: Women, Families, Opioids."
In accepting the award, Beth thanked her production team, and remarked that ending the epidemic lies in removing the stigma around addiction, something she and WQED strive to accomplish with their commitment to programming.
To watch, go to: https://www.wqed.org/hopeafterheroin#overlay-player=2ABUsq6feug, YouTube.