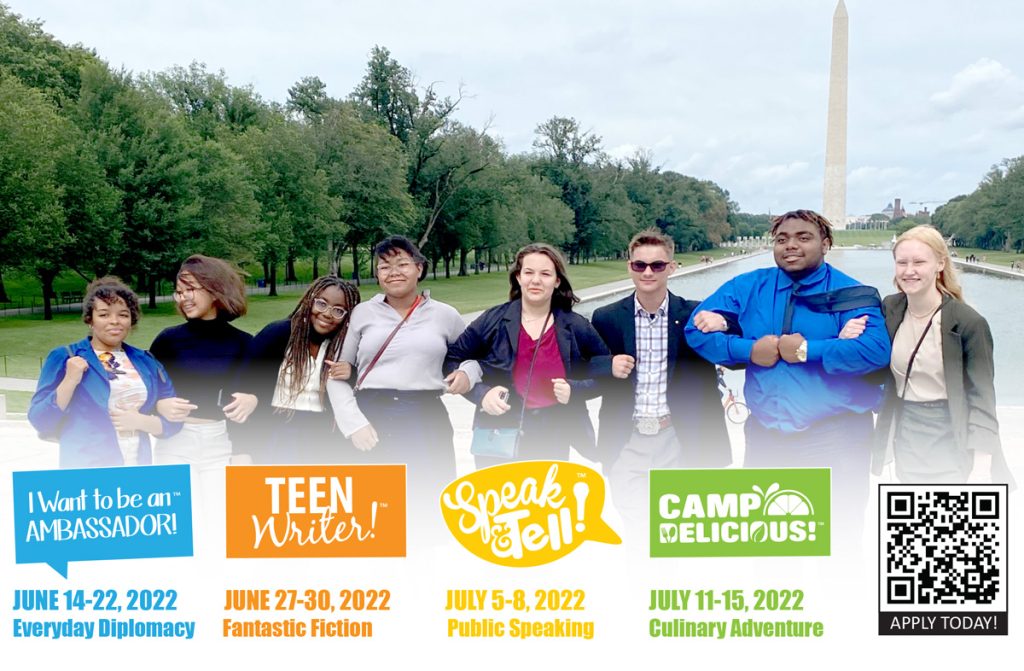 Parents, believe it or not, summer is right around the corner and we need your help. For more than a decade, Luminari has been offering inspiring summer camps that provide opportunities for growth and skill development to local teens. We have several spaces still available in both our Teen Writer! and Speak & Tell! camps, as well as a few spots left for I Want to be an Ambassador! and Camp Delicious! Because you are familiar with our programs, we're asking for your help to spread the word about our camps.
Luminari's mission is to develop the next generation of change-makers, help-givers, and leaders through programs that assist teenagers with building strong leadership skills, effective communication, and managing relationships, including pro-active conflict resolution strategies. Students leave our programs as better versions of themselves, better stewards of the community, and prepared for success.
Inspire your teen for a lifetime of accomplishment — empower them with the skills they will need to excel in school, in their community and in life.
Luminari recognizes diversity as that which binds us all together. The need to be heard and understood is uniquely human, and through diplomacy, learning and civil discourse, students will discover more about tolerance and effective communication that unites rather divides. Progress, empowerment and hope begin with learning and diplomacy.
Luminari offers four unique, week-long summer day camps for middle and high school students:
I Want to be an Ambassador! (June 14-22, 2022) this camp is for teens interested in diplomacy and leadership; we explore cultures, build problem-solving skills and end with a two-day trip to Washington, D.C. – Only a few spaces available, apply Today
Teen Writer: Fantastic Fiction! (June 27-30, 2022) this camp helps young writers find inspiration, conquer writer's block, conjure compelling plots and build really good characters. – Spaces are available, apply Today
Speak & Tell! (July 5-8, 2022) this camp is for anyone who wants to be a dynamic public speaker. Noted professionals from Pittsburgh TV, Sports and Theater will present Master Classes to show that public speaking can be fun. -Spaces are available, apply Today
Camp Delicious! (July 11-15, 2022) this camp is for the teen who loves to cook – and eat – wholesome, yummy food. Try new tastes, learn food preparation and then head out to the garden to see where food starts. -Only a few spaces are available, apply Today
If interested in applying or for more information about Luminari and any of our mind-broadening teen summer camps, visit www.luminari.org or call (412) 877 – 1888.