We are excited to share and celebrate the hard work, dedication and achievements of our Lumianri Team Members, Susan Brozek Scott (I Want to be an Ambassador! Camp Director), Gina Catanzarite (Teen Writer! Camp Director) and Beth Dolinar (Contributing writer and former Administrative Coordinator/Speak & Tell! Director), who continually embody the spirit of our core values in their daily work as journalists bringing awareness to important issues and a profound sense of responsibility to the Pittsburgh community.
CONGRATULATIONS!! EMMY AWARD WINNERS GINA CATANZARITE AND BETH DOLINAR
We are extremely proud and excited to announce that two Luminari Team Members won big at the 2019 Mid-Atlantic Regional Emmy® Awards presented on Saturday, September 28, at the Wyndham Grand Pittsburgh Downtown. The dedication, enthusiasm and insight of these two women inspire us all and we can't wait to see what they will do next!!
Gina Catanzarite, Director of our Teen Writer! Camp, received the Emmy for a documentary she produced called Downstream, about threats to the Pennsylvania watershed. It won in the Science/Health/Environment category. You can see the documentary at https://www.pbs.org/video/downstream-j0czyr/.
Downstream is a production of Point Park University Environmental Journalism Program, in association with WQED Multimedia. It was funded by the Heinz Endowments.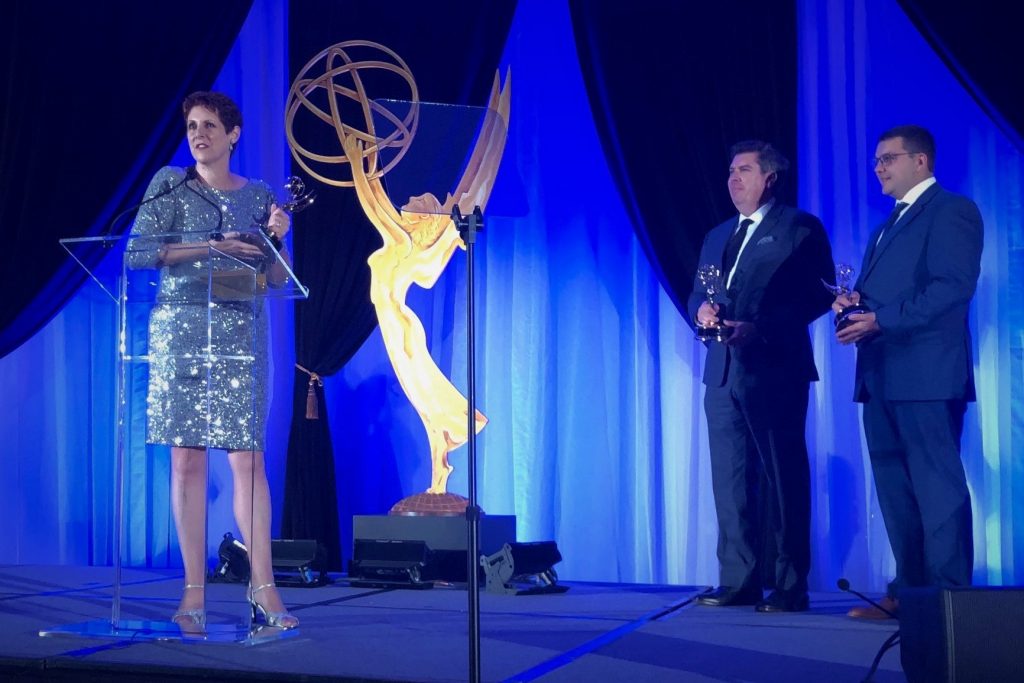 Gina accepting Emmy pictured with (left to right) Narrator Ryan Mills and Assistant Cameraman Zak Boyle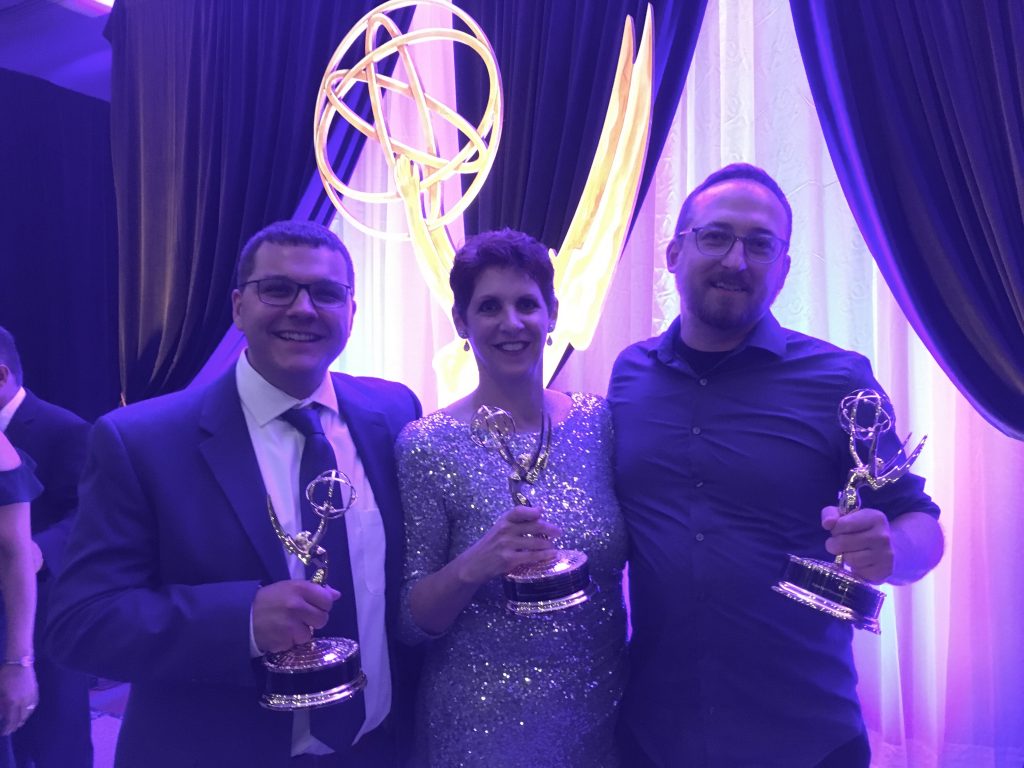 Downstream crew (left to right) Assistant Cameraman Zak Boyle, Writer/Producer Gina Catanzarite, Camera/Editor Glenn Syska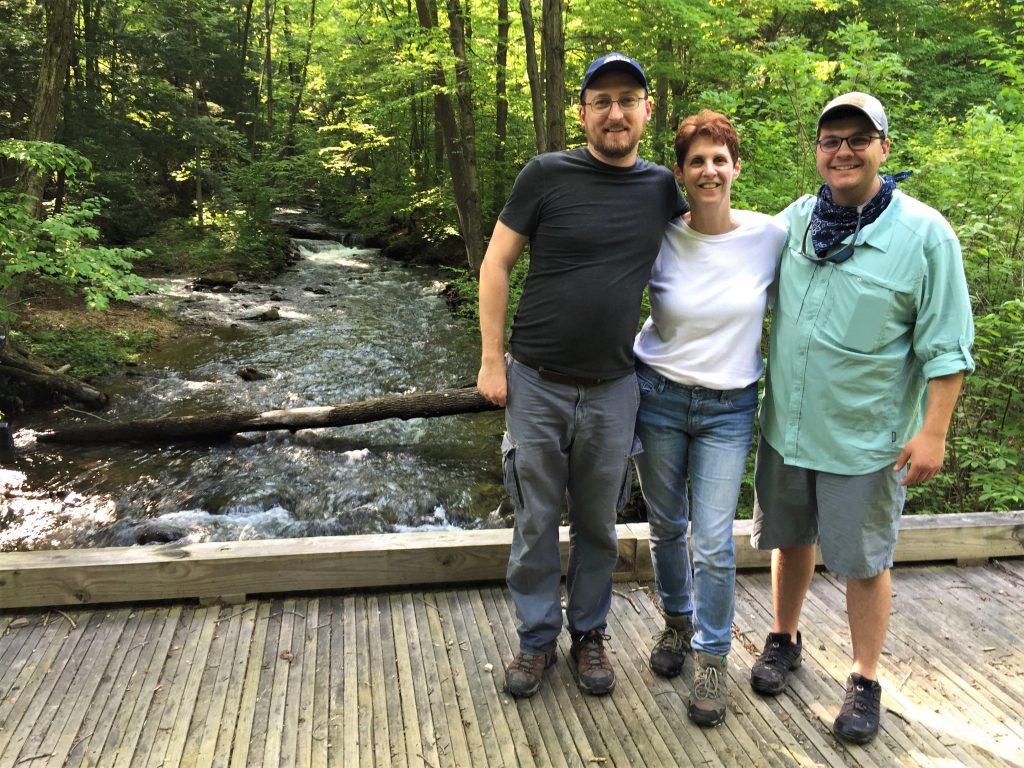 Downstream crew shooting on location at a tributary of the Little Juniata River in Summer 2018
***
It was a good night for Beth Dolinar, Luminari's former Administrative Coordinator and current contributing writer, who took home three Emmy Awards for her team at WQED. Beth produced The Great Ride which won the best documentary category and she also received the craft Emmy for best writer. Beth's third Emmy for the night was for a piece she did about a couple who survived the Tree of Life shooting. For more information about The Great Ride, read Beth's article on it in LUMOS! (https://www.luminari.org/2019/03/20/documenting-the-great-ride/)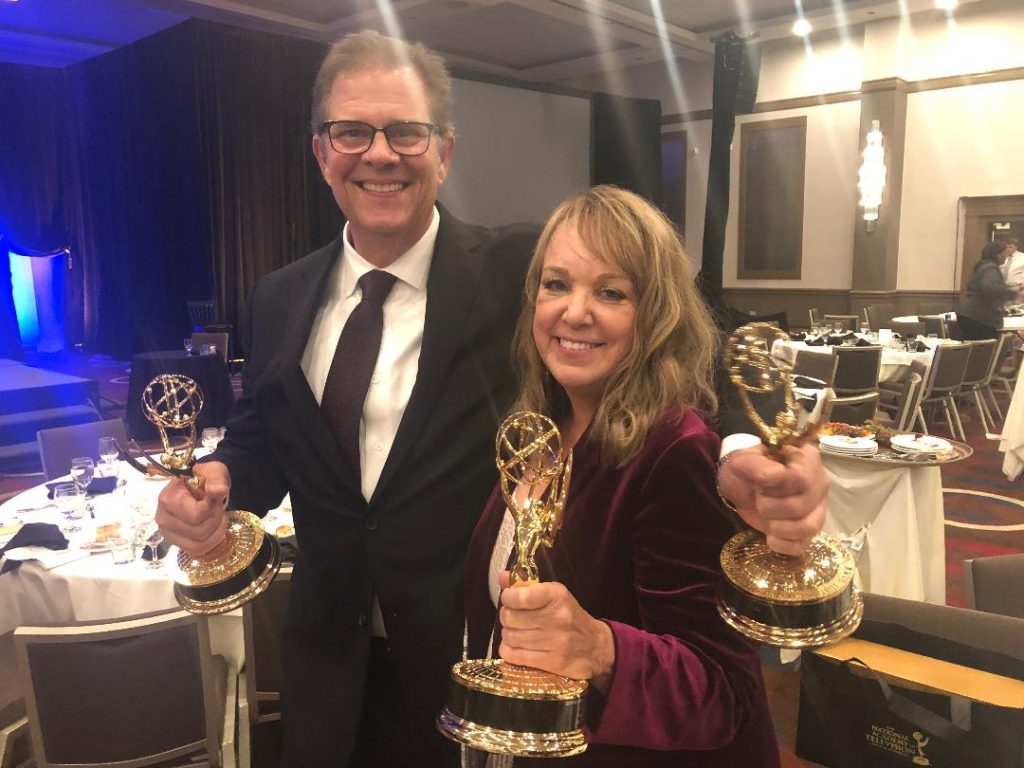 Patrick helping Beth hold all her Emmy Awards
***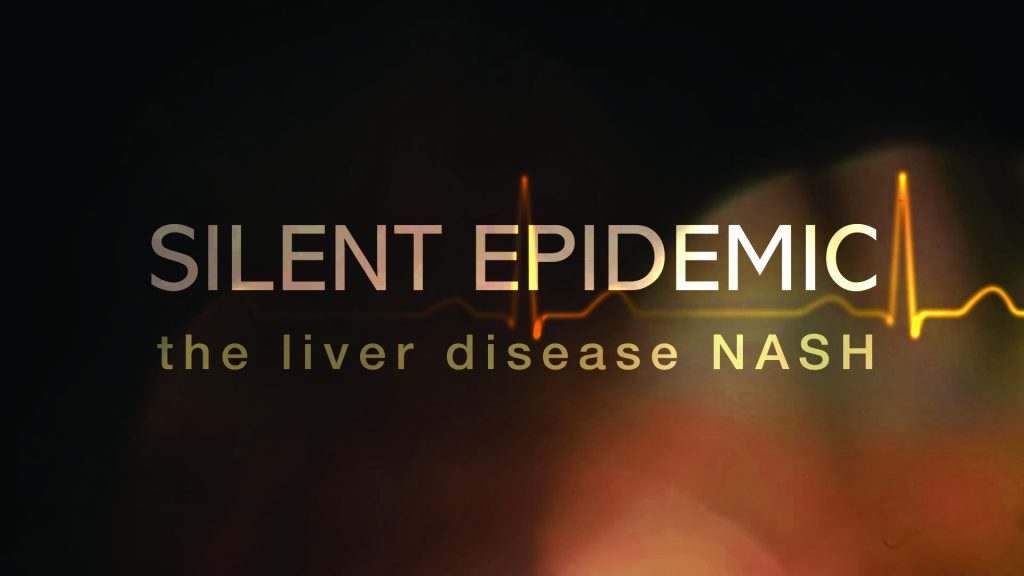 Susan Brozek Scott, I Want to be an Ambassador! camp director, produced a riveting documentary about fatty liver disease, seen through the eyes of patients, their medical teams and caregivers titled "Silent Epidemic: The Liver Disease NASH." The documentary will debut in Pittsburgh on Monday, December 2, 2019 at 7:30pm on WQED as part of global International NASH Day activities. The program brings much needed attention to a disease that is literally a killer if undetected, but if caught in time, the liver can regenerate.
"Over the years, I've been very fortunate to be able to work as a writer and producer on a number of documentaries, from sports to environmental, local history to education. What is very meaningful to me about this documentary is that it can literally help save lives. So many people have no idea that they have fatty liver disease, until the disease has progressed to a life-threatening stage. Education and awareness can make the difference."